The Perfect Stack of Solutions
Empowering Education
ClassReach School Management Software
Welcome to ClassReach, where education meets efficiency and innovation.
Our comprehensive suite of solutions is designed to empower schools with the perfect blend of tools, enabling seamless administrative processes and elevating the teaching and learning experience.
Learning Management Software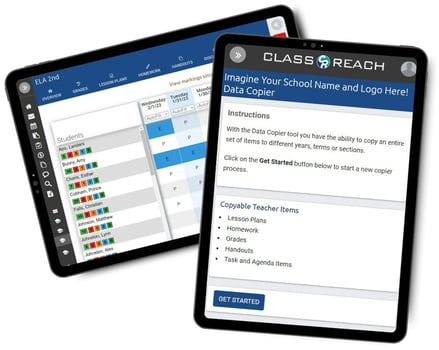 The ClassReach classroom management software is designed to streamline and enhance the teaching and learning experience. With an array of powerful features, our software empowers educators and students alike, fostering a dynamic and efficient educational environment. Below are some features we know your teachers will love!
Gradebook
Easily view data by section or student, including grade statistic graphs and distribution charts.
Teacher Tools
Customize course resources, access student rosters, and conveniently view teacher agendas and schedules. Transfer lesson plans and handouts effortlessly with the data copier.
Attendance
Mark attendance with configurable and color-coded markings, and make the process a breeze with the auto-fill feature.
Agenda
Organize plans seamlessly, assist students with task management, and provide guardians with a simple view of day-to-day learning activities.
Discussions
Engage students by planning parties, reflecting on assigned readings, and facilitating question posts.
Homework
Reduce teacher workload with automatic gradebook creation, enable student submissions, and record grades effortlessly.
School Management Software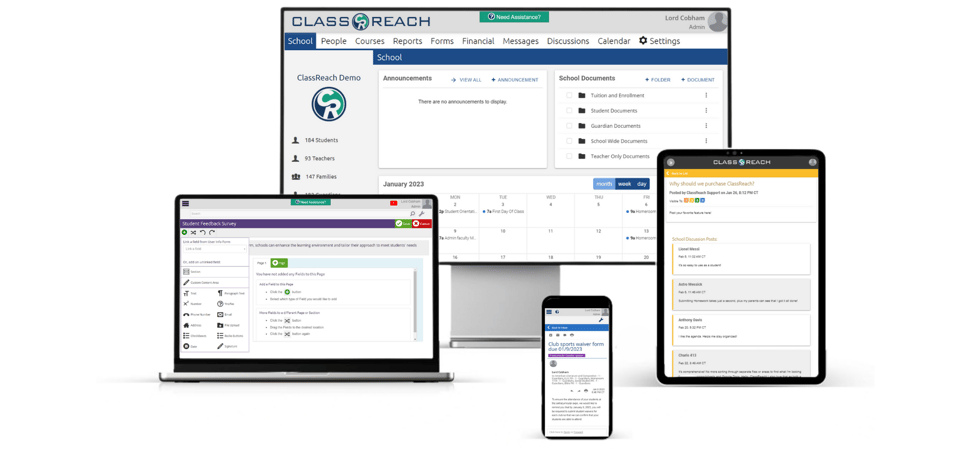 Introducing our comprehensive and feature-rich School Management Software, a powerful platform designed to cater to all your school's administrative needs. With a user-friendly interface and a suite of innovative tools, our software is built to enhance efficiency and collaboration across your entire school community. Our School Management Solution is built by schools for schools! Administrators explore efficient and effective tools like:
User Portals
Empower users with multiple roles to access their personalized portals using a single login and password. Easily toggle between roles without the need to log out, ensuring seamless navigation and productivity.
Calendar
Effortlessly create and manage events for specific roles, sections, or your entire school. Our calendar feature allows you to print and share schedules with ease, ensuring everyone stays informed and organized.
School Documents
Upload files, set visibility permissions, and organize documents into folders, enabling easy access and efficient organization.
Forms Creator
Simplify form creation with our intuitive drag-and-drop design. Customize forms with various fields, including payment-enabled options. Share them with users and guests, streamlining data collection.
Messaging
Ensuring the utmost security, our Messaging feature utilizes a name database and default messaging groups for administrators and teachers. Stay connected and foster effective communication within your school community.
Announcements
Communicate important updates and announcements effortlessly using our powerful announcements tool. Reach out to your entire school community or specific groups, ensuring vital information is promptly delivered and received.
Student Information Software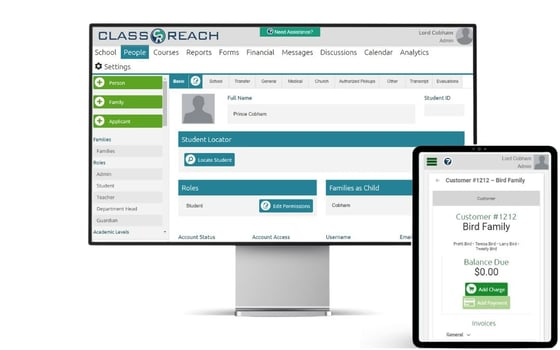 Welcome to our advanced Student Information Software, a versatile and user-friendly platform designed to streamline administrative processes and elevate the efficiency of your school. Our comprehensive suite of features empowers school administrators and registrars, allowing them to focus on what truly matters: fostering a conducive environment for growth in education.
Online Applications
Simplify the admissions process with our highly configurable Online Application feature. Designed to reduce data entry workloads for registrars, our application system ensures a seamless and hassle-free experience for prospective students and their families.
Schoolwide Schedule
Our Schedule feature provides printable schedules for both teachers and students, ensuring easy access to essential information. Administrators can quickly identify and resolve scheduling conflicts, ensuring a smooth and efficient school calendar.
Coursebook
Effortlessly manage courses and their associated settings with our user-friendly Coursebook feature. With its simple design, administrators can navigate and oversee courses with ease, seamlessly switching between years using our data copier.
Financial Suite
Experience comprehensive and secure financial management with our Financial Suite. This feature enables administrators to effortlessly bill for all school-related needs and produce financial agreements with just one click, simplifying the accounting process.
Transcripts
Our Transcripts feature boasts a professional template with a configurable footer, allowing for a polished and tailored representation of student academic records. Administrators can efficiently record and display courses for transfer students, GPAs, and custom grade markings.
Reports
Access the data you need in readable formats with our Reports feature. Whether default or custom templates, administrators have multiple options for downloading and utilizing data to make informed decisions and optimize school operations.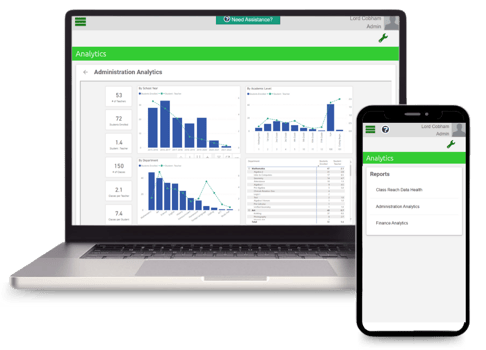 Say Hello to ClassReach Analytics, your gateway to unlocking unparalleled insights for your school.
Dive deep into your data with our comprehensive reports and dynamic visualizations, empowering you to make well-informed decisions that drive success. Uncover hidden patterns, effortlessly analyze them, and take decisive action to elevate your school to new heights.
ClassReach Analytics offers two powerful features for schools
Admin Analytics
The administrator analytics tool enables gathering, analyzing, and interpreting valuable data with comprehensive visualizations. Administrators and teachers can make data-driven decisions using in-depth insights from user-friendly reports.
Financial Analytics
With the finance analytics tool, administrators gain insights into their school's financial performance. Analyze key financial metrics like invoicing and tuition status, accounts receivable statistics, and more!
ClassReach is a unique blend of Features