Make Data-Driven Decisions
Empower Your School with the Ultimate Analytics Platform
Welcome to ClassReach Analytics, where you can unlock unparalleled insights for your school.
Dive deep into your data with our comprehensive reports and dynamic visualizations, enabling you to make informed decisions that drive success. Discover hidden patterns, analyze them with ease, and take decisive action to elevate your school.
Are you ready to harness the power of analytics? Sign up for a free demo today and embark on a transformative data-driven journey!
The Ultimate Analytics Solution
Admin Analytics
The administrator analytics tool can be used for gathering, analyzing, and interpreting valuable data, and providing comprehensive visualizations so administrators and teachers alike can use in-depth insights for data-driven decision-making.
Features:
Comprehensive reports with in-depth insights for data-driven decision-making.
User-friendly interface for quick and efficient analysis of key data points.
Secure data storage and access control to ensure data privacy and security.
Exportable underlying data
Join us today and take the first step towards data-driven decision-making for your school.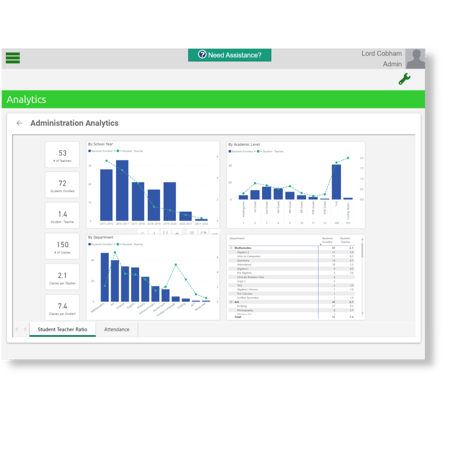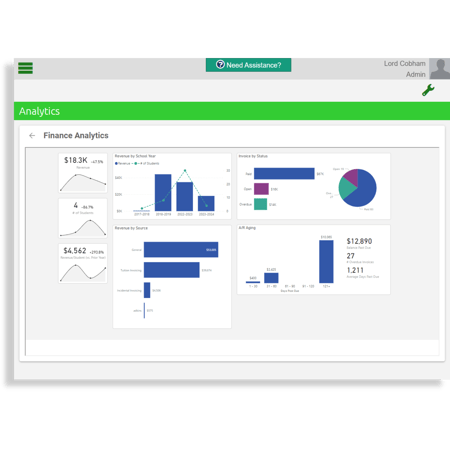 With our finance analytics solution, Administrators gain insights into their school's financial performance, enabling them to make data-driven decisions and optimize their resources.
By identifying areas for improvement and growth, schools can improve their financial sustainability and enhance their academic offerings.
Features:
Comprehensive analysis of key financial metrics, including revenue, expenses, and cash flow.
Monitoring of invoicing and tuition status and accounts receivable aging analysis.
Financial charts and dashboards with historical trends.
Comparative analysis of financial performance against past data.
Scenario modeling to evaluate policy changes or resource allocation decisions.
Join us today and start optimizing your institution's financial performance.
What are the benefits of having an analytics solution in my school?
Analytics can help you Identify areas for improvement:
School resources can be optimized, academic programs can be improved, and student academics can be enhanced by faculty with the help of vital information such as enrollment, teacher-to-student ratios, class allocation, and attendance tracking.
Allows administrators to visualize school data:
School analytics can integrate data from various features provided by our solutions, such as our school management software, student information software, and learning management software giving you a birds-eye view of school performance.
Assists schools in enhancing student outcomes:
Integrating data to analytics from software solutions such as our student information system can provide a more holistic view of student performance so schools can provide personalized support to foster student success which can lead to improved performance, higher graduation rates, and greater student growth.
How can ClassReach Analytics help my school make data-driven decisions?

ClassReach Analytics is the ultimate tool for educational institutions seeking to make data-driven decisions. It provides a robust solution through configurable graphs, comprehensive reports, and an intuitive user interface. By leveraging the power of data analysis and visualization, institutions can identify key areas for improvement, enhance student outcomes, and optimize resource allocation.

With analytics, you can:

Improve academic outcomes.
Optimize resource allocation.
Make Informed decisions.
Secure your data.
Visualize your data.

What types of data can be analyzed with ClassReach Analytics?

ClassReach Analytics can analyze a wide range of data types, including student enrollment, teacher-to-student ratios, course enrollment, attendance tracking, and revenue.

By analyzing this data, educational institutions can gain insights into their performance and identify areas for improvement. To help with this, ClassReach Analytics uses configurable graphs and charts to present the data in a simplified and understandable manner, empowering schools to make informed and data-driven decisions.

How does ClassReach Analytics ensure data privacy and security?

At ClassReach we understand the importance of data privacy and security. That is why our platform implements strict measures to ensure the safety of sensitive information.
Analytics employs secure data storage and access control to meet and exceed industry data privacy and security standards.

Additionally, all ClassReach solutions are designed to comply with the latest data protection regulations. Our team takes pride in our commitment to data privacy and security, and we are committed to staying ahead of the curve on the latest threats so we can maintain the highest standards of protection for our user's data.