Premier Solutions
Affordable price
Why is ClassReach the best school management software?

ClassReach is the best school management software on the market because it has been designed by schools for schools!

At every step of the design stage our sales teams, product teams, and support teams work together to understand the needs of our schools and prospective schools. We utilize the information we learn about schools to create stories that impact how we design our features and which features we prioritize.

We offer relevant solutions that meet real needs that have been articulated by school administrators, teachers, guardians, and students.

ClassReach is designed to be the one solution your school needs from application to graduation.

How long does a demo last?

We offer access to a demo account for 30 days for prospective schools. This access provides a login and password to a mock account where schools can play with the system and input dummy data.

Schools can test the full set of features in the demo site, including:

We also offer a virtual demo presentation where a knowledgeable sales team member will take the time to learn about your school's specific needs and offer unique solution suggestions. During the virtual demo we give you a look at the product and answer any questions you have.


Our sales team is able to provide a quote for your school at the conclusion of the virtual demo presentation. Virtual demo presentations last anywhere from 30 to 90 minutes depending on the amount of questions your school has and the number of people in attendance.

Click here to request your personalized demo!

Can multiple people attend the demo?

Yes, in fact we encourage administrators to bring their team with them to the virtual demo presentation so that they can ask questions about our solutions.

Our experience has been that each member of the your team holds a key perspective to determining how ClassReach can best help to reach the goals of your school!

Some people who have attended previous virtual demo presentations have been:

Heads of Schools / Directors
Teachers
Board Members
Registrars
Presidents / CEOs
Volunteer Parents
Pastors
Department Heads
Other School Leaders

Whether you're attending your demo alone or with your team, we are excited to explore how ClassReach can partner with your school!
Track Attendance
Keep your records secure
ClassReach allows teachers to record attendance electronically with just a click of a button.
Our responsive mobile design means teachers can even take attendance during class, and guardians can get a real time update.
No more lost papers, no more filing cabinets, no more hassle.
Store DAta
Track and manage important

data
Small Schools store many different types of data.
ClassReach stores student information like address and emergency contacts as well as course offerings and their changes each year.
Find enrollment numbers, progress reports, and transcripts with a single click!
Build Community
Communicate effectively
ClassReach offers a variety of tools to help educators communicate with their school.
Send announcements, share documents, use in system messaging, and custom forms to keep families engaged.
You can even create a school calendar and share events with different groups of people within your community.

"What I like most about this software is that it is user friendly and affordable. We use this software for our small school to track grades, attendance, school calendar, payments. There are other features available that we use less often including lesson plan tracking and discipline reports. As our school grows, we intend to capitalize on the availability of these options as well. Whenever we have had technical issues, customer service is very friendly and available to assist rather quickly."

-Switched from PraxiSchool
Manage Admissions
Tell the world your school is open
ClassReach has pre-built application forms that can be used as is or configured based on your school's needs.
All the info is linked in our software to ensure simple account creation upon approval of the application.
You can connect your unique public facing url to your school's website so potential families can easily apply.
Manage Payments
Convenient, Safe, Reliable
The financial suite in ClassReach is designed to make invoicing and accepting payments simple for all users.
Build a financial agreement with rule and discount fees and generate the agreement for families with a single click.
Enable payments on forms to create intuitive order forms for spirit wear, hot lunches, and field trips.
manage Curriculum
Promote Student Learning
ClassReach knows that the classroom is a critical environment to promote student learning.
We provide a number of tools including departments, course resources, handouts, lesson plans, and agendas to aid teachers.
We even make it simple to accept and grade student assignment submissions online through our homework tool.

"Overall, Classreach has been wonderful tool to use this year. I am very appreciative of the software, the ease in entering information, and the way it has improved communication with the parents and students. I love how easy it is to add homework and test quizzes. This has worked amazingly well when a student is absent from school to keep up. It also helps the students with organization and we have seen a lot less missing assignment since using the program."
Student Scheduling
Track where your students are
Knowing where a student is at any point in the day is critical to ensure student safety.
That's why our student scheduler is integrated with our student locator feature.
With ClassReach you'll always know where your students are.
Data Copier & Imports
Tools that work for your admins
Don't waste hours doing the same work over at the change of each year.
Instead, use the data copier to transfer data from year to year and section to section.
Imports allow you to upload data in bulk using csv reports.
Course REgistratioN
Involve guardians and students
Guardians and students can easily select from the course options admins provide.
Automatically generate a course schedule and send to admins for approval.
We even have features to quickly identify schedule conflicts.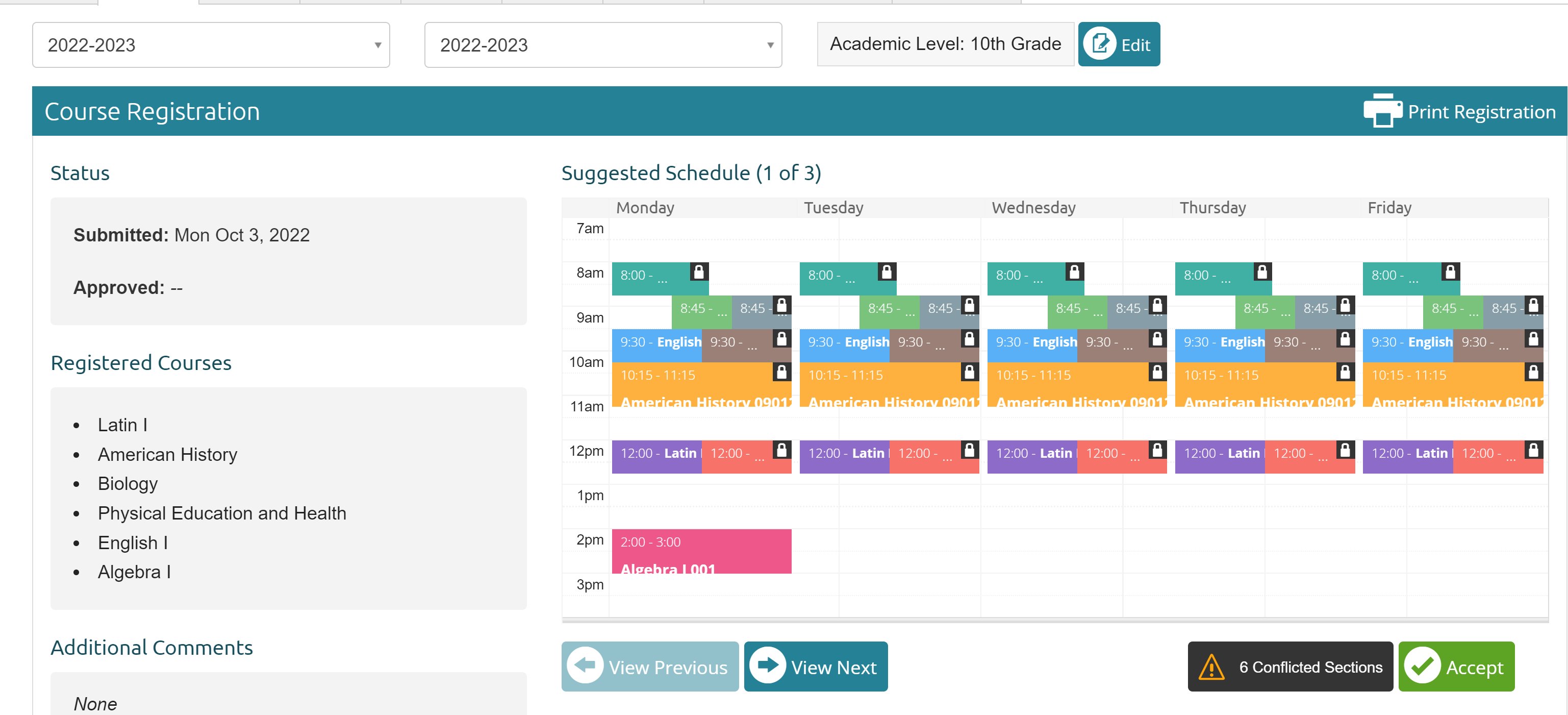 "Great option for private schools. As an online school, our needs are different from brick-and-mortar schools. The tweaks and customization the ClassReach developers have implemented for us have been so valuable and we are very grateful to have found such a relationship. We love how parental oversight is built into every aspect of this software. Transparency is very important to us, so the ability to see all student interactions and class materials is a must. Working with the developers and customer service is a breeze."

-Switched from ThinkWave Educator
eNrollment & Onboarding
Capture & Create Users
Whether you're accepting applications, updating information during enrollment season, or onboarding a new family, ClassReach has a suite of tools to help you.
Use forms to approve, deny, or place an application on hold.
Link forms to user profiles for automatic updates to family information during enrollment.
Automatic Form Workflows
Easily Collaborate
Collaborating with multiple members of your team can be challenging when forms get lost in email or people forget to pass on information once their tasks are completed on a shared project.
Workflows provides a simple way to automate the process and ensure communication.
Workflows are completely customizable and can generate multiple user tasks at the same time.
Self Service Features for users
Partner with Families
ClassReach allows students and parents to view information on lesson plans and grading without assistance from a teacher, making the process more convenient for everyone.
Students can check items off the agenda to alert teachers and guardians of completion.
Teachers can view student's profiles and easily communicate with guardians when necessary.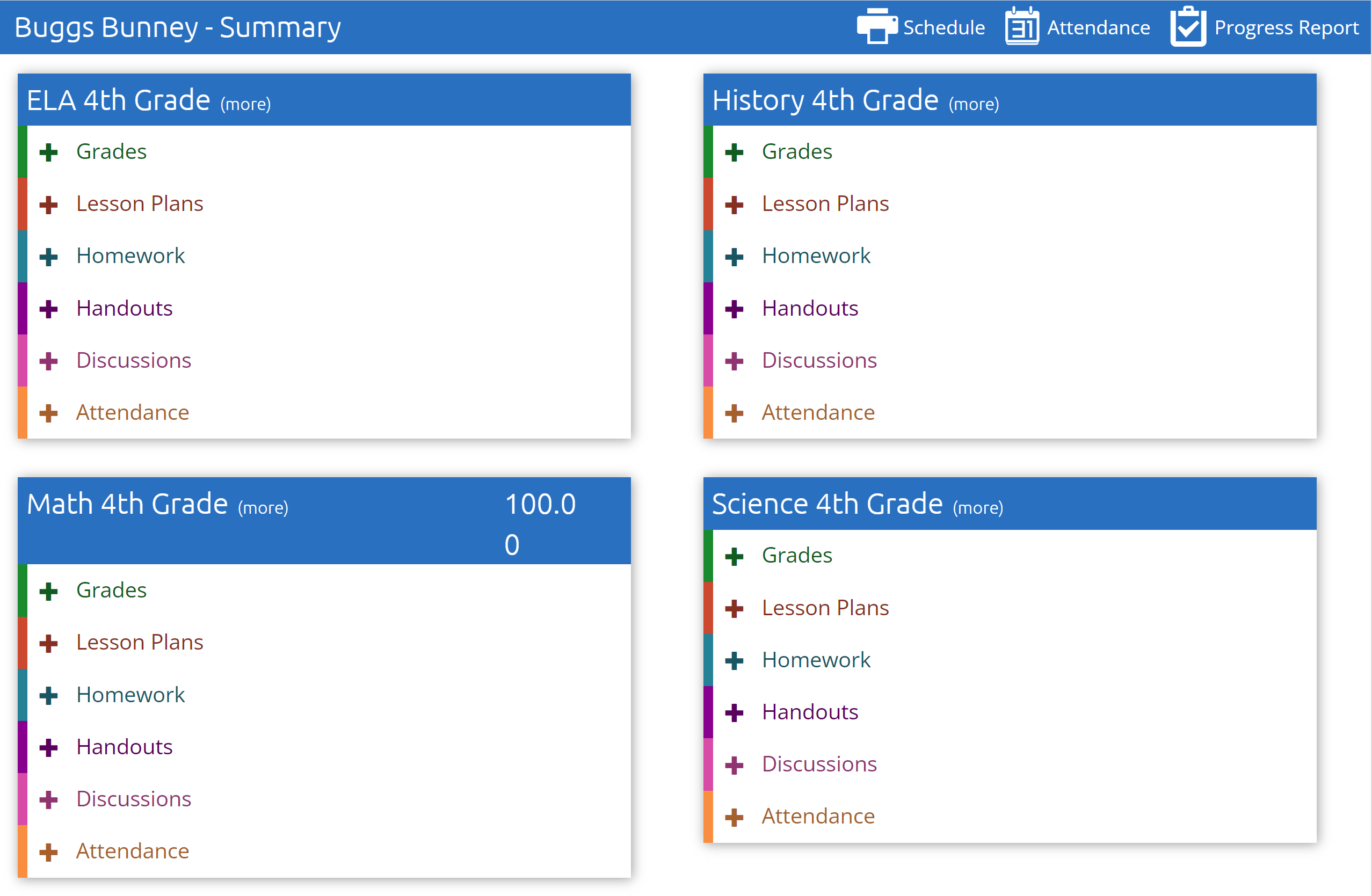 "ClassReach has been an amazing solution! It is convenient to use. It is also very intuitive. The agenda and task option has been a solution to many of our previous problem."

-Switched from Gradelink