Give your registrar the tools to create transcripts Easily
Whether you're building a transcript for a student that has been in your program since kindergarten or working with a transfer student, the ClassReach student information system helps administrators create transcripts effortlessly!
Simplify your school's transcript management with our comprehensive and user-friendly solution, offering a range of features including:
Transfer tabs for efficient record-keeping
GPA calculation settings to accurately calculate student grades
Easy print links for quick access to transcripts
Bulk transcript reports for time-saving mass printing
Experience painless student information management with our transcript creator features. Schedule a free demo and see the difference it can make for your school!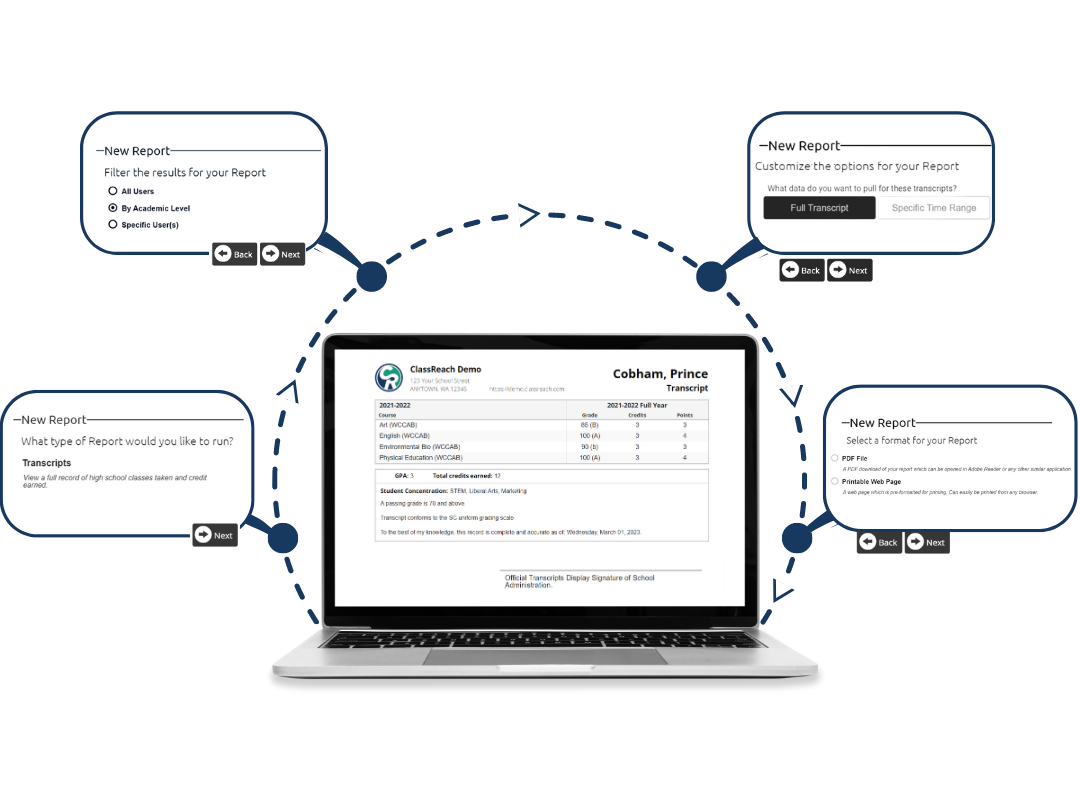 Effortlessly Create Professional Transcripts
Cutting-Edge Transcript Management Software
Say goodbye to tedious tasks and hello to streamlined transcript management. Simplify your workload with the user-friendly online transcript creator.
Access a range of flexible features, including:
The transcript copier for easy duplication
Bulk transcript printing for efficiency
Transcript settings tied to specific fields for precision
The transfer tab for seamless transcript transfers
GPA Calculation Settings for tailored calculations
Regular/Honors/AP GPA scales for accurate evaluations
Easy-to-use print links available in user profiles for convenience
Contact us to learn more and schedule a demo.
Our bulk transcript printing solution is the perfect tool to streamline your transcript management process and enhance productivity. With bulk transcript printing, you can:
Print multiple transcripts at once, saving time.
Easily select the transcripts you want to print and customize your printing options.
Tie transcript settings to specific fields, ensuring precision and accuracy in your printed transcripts.
Take your transcript printing process to the next level by signing up for our free demo today.
What are the benefits of the transcript creator for school administrators when it comes to managing transcripts?


When it comes to managing student information, our transcript creator offers several benefits to school administrators. This tool can be used to create and manage transcripts easily and efficiently for multiple students at one time.

A transcript creator also lets administrators customize transcripts based on school or district requirements, automate grading, and store student information securely.

School administrators can save time, increase accuracy, and improve organization with the transcript creator.



Can the transcript creator accommodate schools' grading scales when calculating GPAs?

YES!, our transcript creator can accommodate schools' grading scales when calculating GPAs. Our solution allows for customizing grading scales to match a school's unique requirements.

This means that administrators can set up the transcript creator to use the grading scale used by their school or district, ensuring accurate GPA calculations.

Additionally, our tool can handle weighted grades, making it a comprehensive solution for managing transcripts.

How does the transcript creator's bulk transcript printing feature save time and increase efficiency for administrators?

The transcript creator's bulk transcript printing feature allows administrators to generate multiple transcripts simultaneously, eliminating the need to print each transcript individually.

In addition to saving time and reducing errors, this streamlined process allows administrators to quickly create all required transcripts as a batch, enabling them to focus on other important tasks.

Additionally, this feature ensures that all transcripts are printed consistently and professionally, thus improving the overall efficiency of your student information system.