All-In-One
Management
Tuition Invoicing and Parent Portals
ClassReach offers simple solutions that allow school registrars and office managers the ability to
Set up financial assistance for tuition payments and student scholarships

Post tuition invoices to the parent portal with ease

Accept payments online for applications, field trips, hot lunches, and school enrollment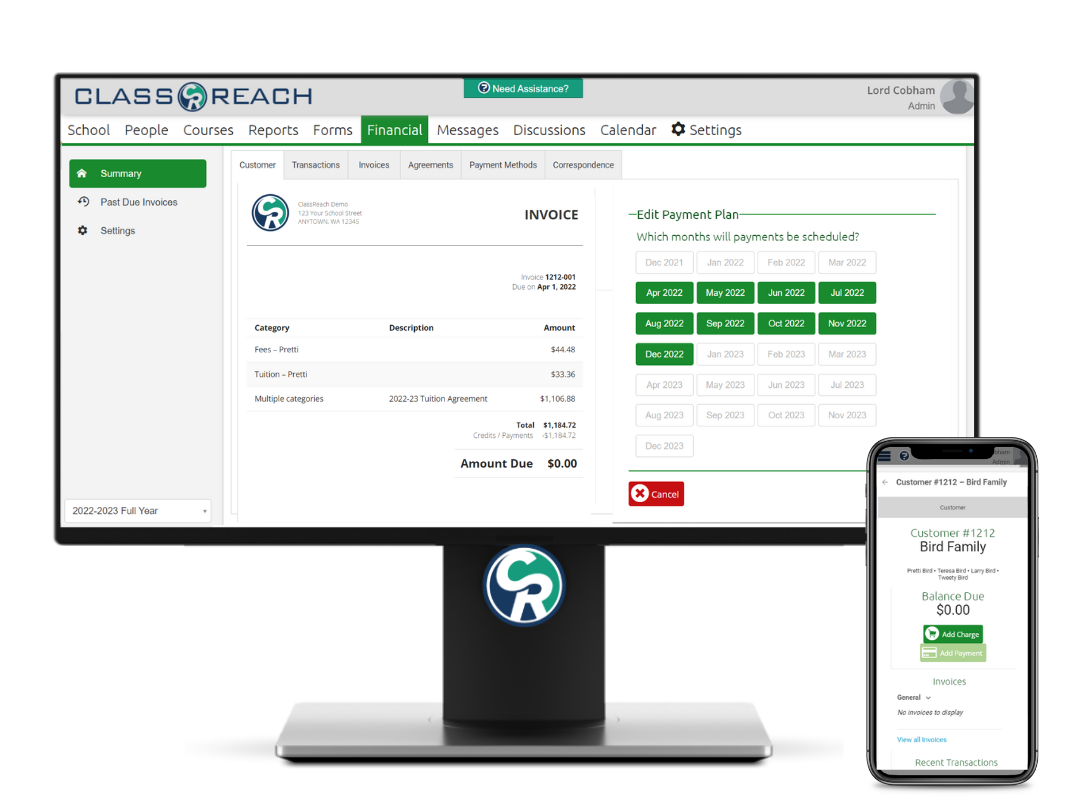 Financial invoicing simplified
Online Tuition Management System that offers full-service options for school office managers, registrars, and parents all in one easy-to-use invoicing software solution!
Parents can login to their very own portal to access full financial information in the same place as all their other student-related data like grades, attendance, and coursework.
Parents will see:
Invoices

Alerts about upcoming payments

Agreements waiting for signatures

Payment forms – such as hot lunch, spirit wear, and field trips



Parents can choose payment plans created by the administrator and apply for financial aid or tuition assistance based on criteria set by the school office manager or registrar.
ClassReach provides a powerful forms creator that allows admins to easily create forms for assessing a student's need for tuition assistance or financial aid.
Add workflows to the form to involve multiple admins in the tuition management process.

Link fields to the user profile forms for automated data entry.

Run reports on responses to help in the determination of the financial aid process.
Financial Agreements allow schools to create legally binding tuition agreements with timestamped signatures.
Easy creation includes:
Fee Rules by course, user, or family

Discount Rules with percentages, flat rates, and caps

Single-click agreement creation

Professionally designed and printable agreements
Choose the invoice tools that your school needs to minimize your registrar and office manager's workload.
Financial Agreements

Financial Batch uploads using CSV templates

Single transaction creations

Configurable account categories

Configurable account payment plans

Online Payment processing through Stripe Integration for ACH Withdrawals and Credit/Debit Card Transactions

Cash, check, and miscellaneous payment recording options
What is a student billing software and is it necessary for my school?

Student billing software is a must-have solution for schools of all sizes. Tracking invoicing, payments, financial aid, scholarships, and tuition assistance in spreadsheets or worse – sticky notes can lead to annoying clerical errors that are difficult to resolve.

Getting started with student billing software allows schools to share information about tuition billing and invoicing within the software program with both office management and parents through an online portal.

How does a school determine the amount of financial assistance to provide for a student?

Schools can provide financial assistance to families based on several factors:

Discounts in the form of employment benefits

Discounts in exchange for volunteer hours

Needs Based Financial aid based on an application in which annual income and other criteria are used to determine eligibility

How do schools recoup the cost associated with payment processing fees?

Sometimes there are fees associated with certain transactions within a financial billing software. Some services charge extra fees for the financial module all together. This type of cost can add up quickly.

ClassReach offers the financial suite at no additional cost to its schools. The financial suite includes access to invoicing tools, payment enabling on forms, acceptance and records of payments that are processed in the school's office through check, cash, or other means.

For convenience, ClassReach partners with Stripe to provide ACH withdrawals and Debit/Credit Card payments. These transactions have minimal fees associated with them. ClassReach provides the option to have the fees school-absorbed or customer-absorbed. Many schools pass these fees along to their families in the form of convenience or finance fees or even roll the cost into their annual tuition costs.

A ClassReach sales professional can give you additional details and ideas about how our schools are minimizing their costs!