Simple, Effective Communication
Innovate communication, save time, and keep parents informed about their child's education with the best in-school management messaging solutions.
With automated groups, you can easily target specific academic levels, course sections, roles, or all users. Plus, guardians are copied on all student messages, keep's parents in the loop with all student communications
Sign up today to take advantage of adaptive messaging and start customizing messages for your school's needs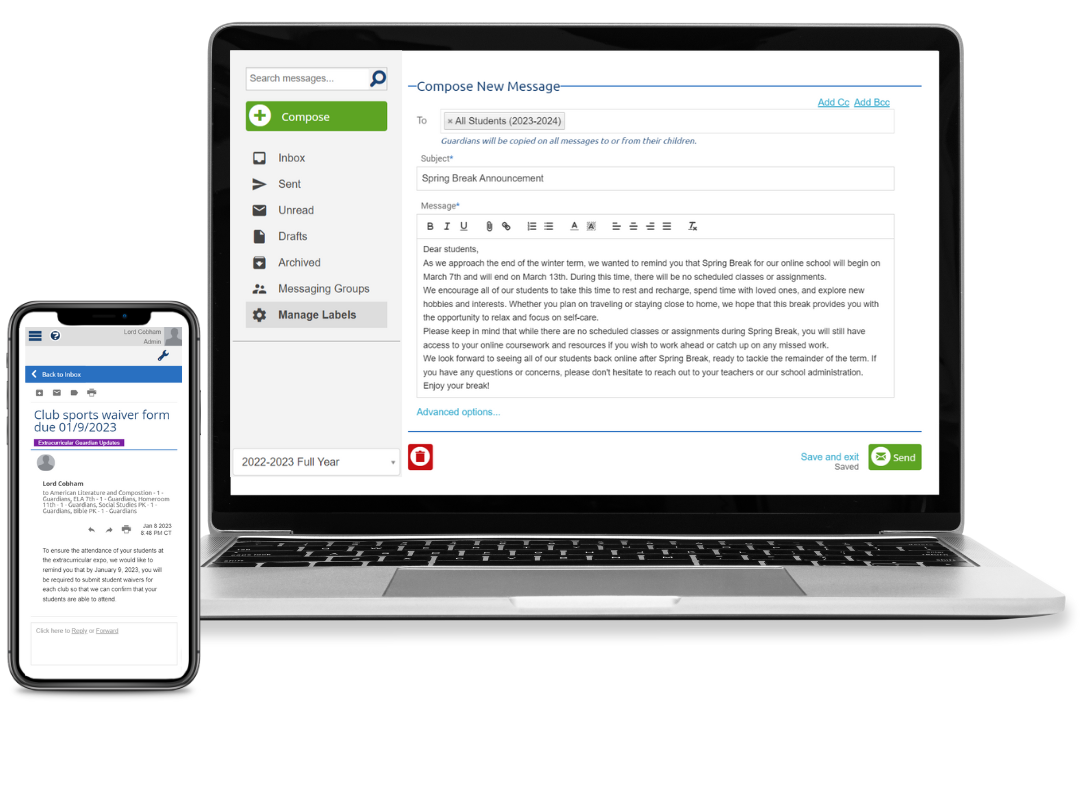 How can Communication tools boost collaboration among students, teachers, and parents?
Our web-based school management system offers powerful communication tools that connect students, teachers, and parents like never before.
Here are just a few of the communication tools included:
Teachers can post and initiate discussions on relevant topics related to their subject matter, allowing students to engage in meaningful conversations and deepen their understanding of classroom material.

Administrators can send schoolwide announcements, such as upcoming events, schedule changes, and emergency alerts, keeping everyone in the school community informed and prepared for any situation.

Teachers can also upload and share school documentation, such as syllabi, readings, and worksheets, through this platform, ensuring that students can easily access all course materials and stay organized throughout the school year.

Parents can stay informed about their child's academic progress and any schoolwide announcements with the guardian portal. This portal allows guardians to be copied on all student messages, fostering a greater partnership between parents and teachers in supporting their child's education.
Our web-based school management software's communication tools are essential for creating a connected school community.
Get started today to promote open communication, and meaningful class discussions while encouraging everyone to be on the same page with our free demo.
keep your school community engaged and connected
INSTANT AND CUSTOMIZABLE MESSAGING
Attention school admins! Streamline your communication process with our messaging system's powerful features, including:
Unread filter for quick identification of important messages
Customized messaging groups based on specific criteria for targeted communication
Color-coded filter labels for efficient message organization
Flexible options for message delivery individually or in bulk
Ability to send attachments for convenient sharing of important documents or files with recipients
Try our feature-rich school management system now and discover the difference it can make for your school.
Communication is essential for a successful school environment, and targeting the right individuals with the right message can make all the difference. With our customized messaging groups, school administrators can:
Customized messaging groups based on an academic level, course sections, and roles for targeted communication.
Color-coded filter labels to organize and sort messages efficiently.
Filters on announcements, school documents, discussions, and calendar events to help determine visibility settings by role.
Experience the benefits of hassle-free messaging and simplify your communication process today with our School Management System
What are the benefits of using a schoolwide communication tools?

Our schoolwide communication solution offers:


Improved communication efficiency: As a school administrator, you can send important messages to all members of your school community at once, saving valuable time and resources.

Cost savings: Our schoolwide messaging system eliminates the need for individual messaging or printing and distributing paper flyers or newsletters, resulting in cost savings.

Increased engagement: You can reach a wider audience and improve engagement with students, parents, and staff members.

Enhanced consistency: By ensuring all recipients receive the same information in a single communication, our system improves communication consistency and effectiveness.

Streamlined communication processes: Our schoolwide messaging system helps you automate communication processes and improve overall efficiency within your school environment.

Can I customize messages for specific groups or categories, such as academic level or course sections?

Our school management system offers an easy way to customize messages for specific groups or categories, such as academic levels or course sections.

With our messaging tools, you can:

Tailor messages to specific groups of students, parents, or staff members
Increase engagement and effectiveness by personalizing the messaging experience
Streamline communication processes and improve overall efficiency

If you want to improve your school operations and communications schedule a free demo now!

How can schools improve parental engagement and create transparency in their communities?

With our school management solution, you have the ability to set up schoolwide messaging systems that allow parents or guardians to receive copies of all student messages.

This can be done through the use of parent portals or other communication tools that are integrated with our messaging system.

By providing this option, you can help keep parents and guardians informed about what their students are learning and what is happening in the classroom, while also promoting transparency and accountability within your school community.