POWER YOUR SCHOOL WITH INNOVATIVE LEARNING MANAGEMENT SOLUTIONS
Transform your teaching experience with ClassReach's powerful and user-friendly Learning Management Solution. Our platform is designed to help your students reach their academic goals and streamline your workflow as an educator or administrator.
With features like innovative classroom tools, discussion posts, and a comprehensive grade book, ClassReach's platform is a must-have for any educational institution.
Try it out for yourself with a free demo and elevate your teaching to the next level.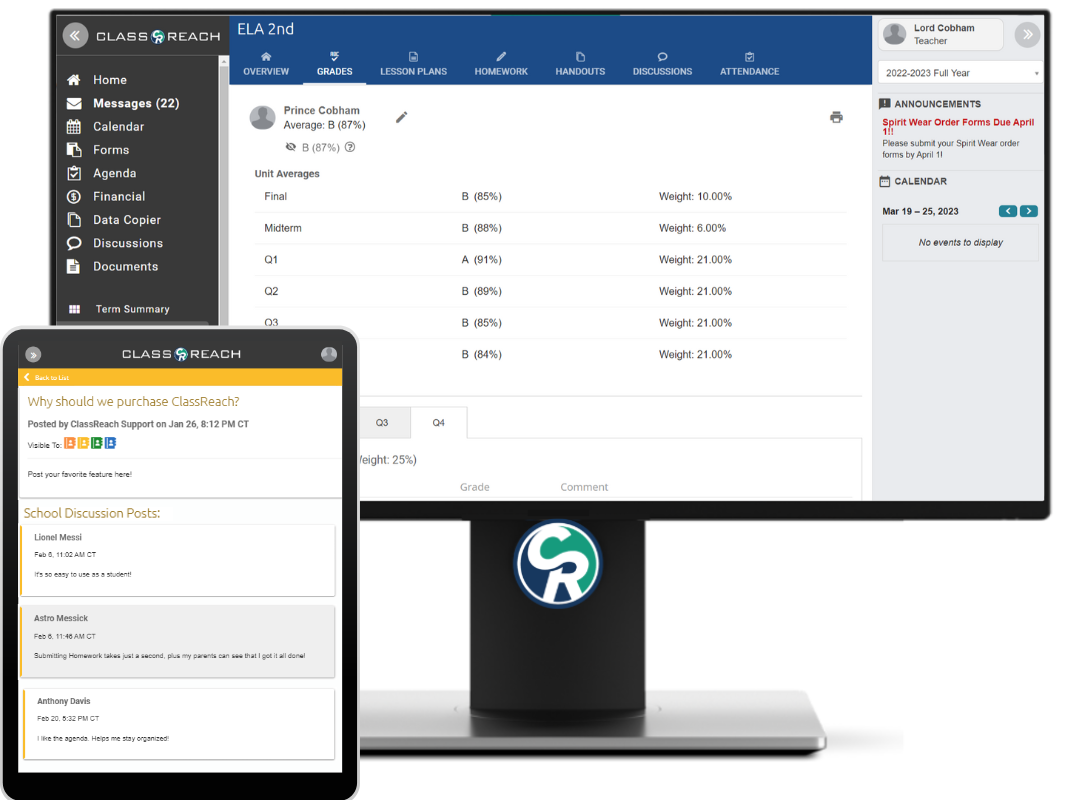 How does the Classreach learning management solution perform?
ClassReach's Learning Management Solution is designed to provide seamless delivery of educational material. Our Learning Management System is constructed to strengthen the relationship between home and school to ensure the success of both students and faculty.
ClassReach provides guardian access and easy-to-use overviews to each course the student is enrolled in, effectively increasing communication between the teacher, guardian, and student. 
The ClassReach platform allows teachers to easily create, share, and manage:
THE RIGHT SOLUTIONS FOR ENERGIZING ACADEMICS
The gradebook provides teacher insights into student progress, letter grades, and outcomes. Analyze data by section or by the student. ClassReach delivers easy-to-use tools built around the teacher and the student's experience.
As a teacher you can:
Grade coursework

Display grades

Observe student growth

Examine student statistics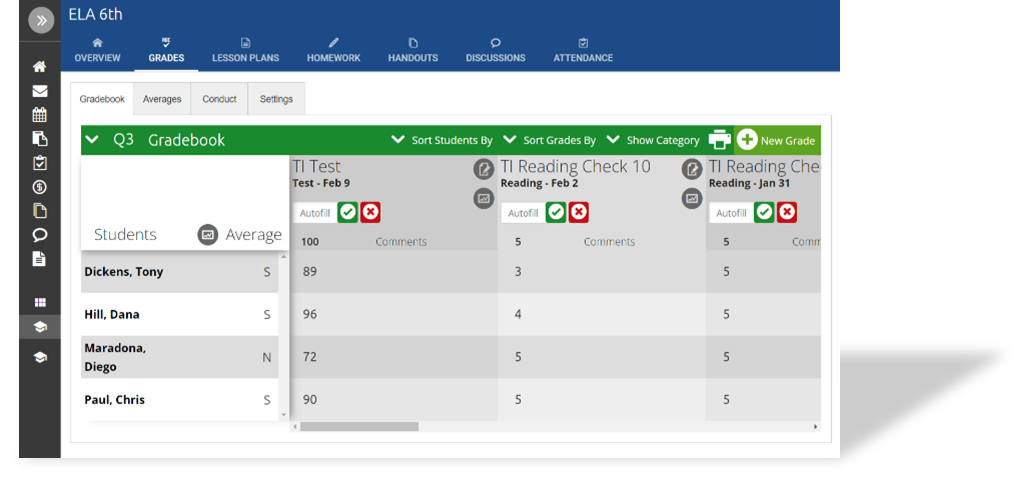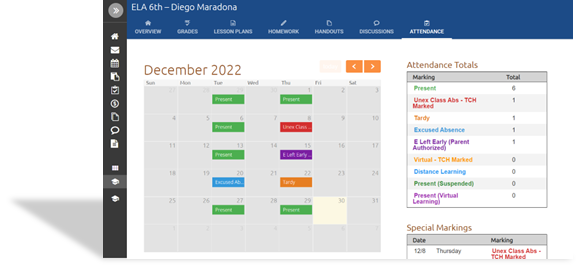 Advance the relationship between class attendance and academic achievement to provide insight for faculty and parents. Construct an organized system to create an efficient way to manage student participation.
On the attendance tab, you can:
Utilize color-coded markings

Create guardian accessibility




Maximize efficiency using auto-fill
Encourage a school of critical thought and intellectual ideas by creating meaningful discussions within sections. Course discussion encourages brainstorming and information processing to motivate your students to grow.
Discussions allow you to:
Plan parties

Inspire social growth

Foster student interaction




Reflect on assigned readings

Post-thought-provoking questions



Talk to a sales expert about the adaptability of discussions.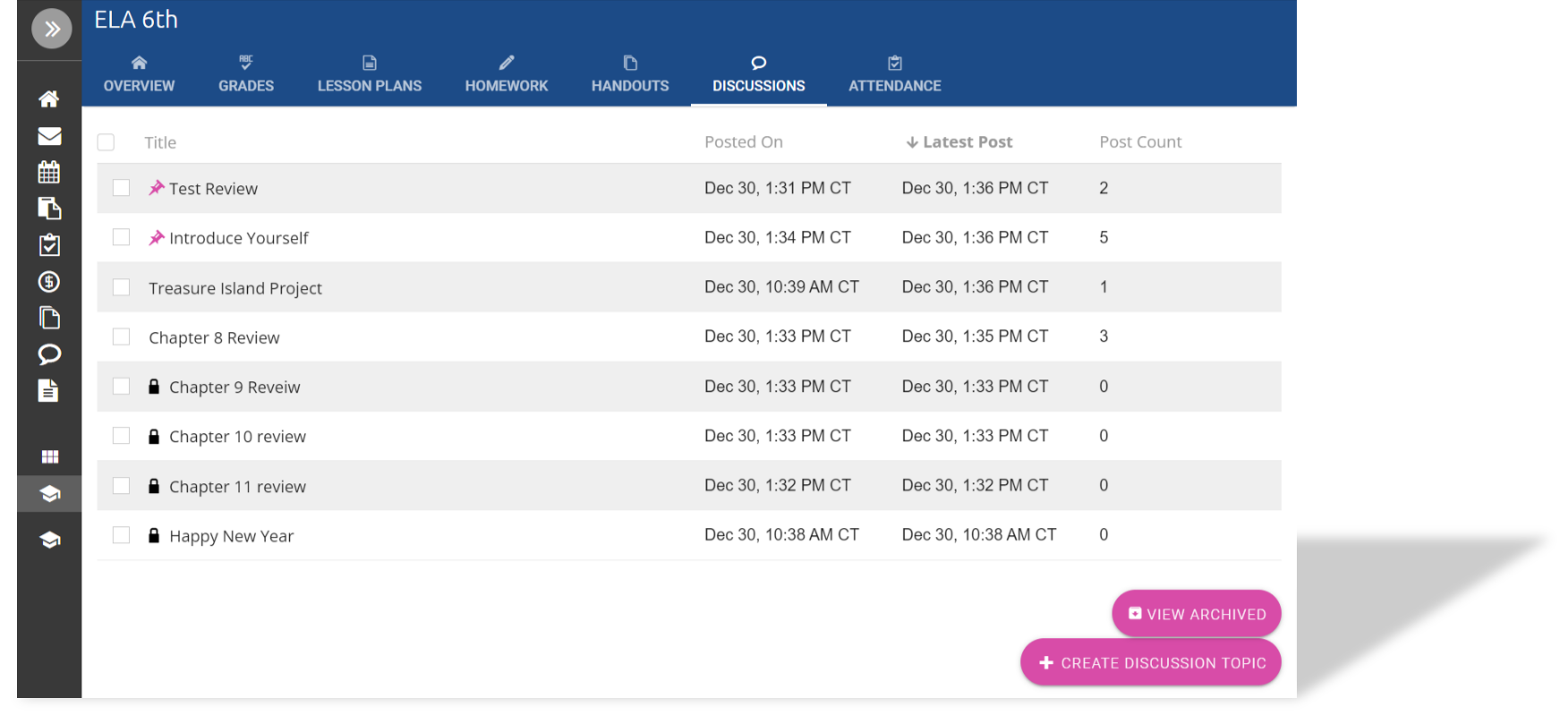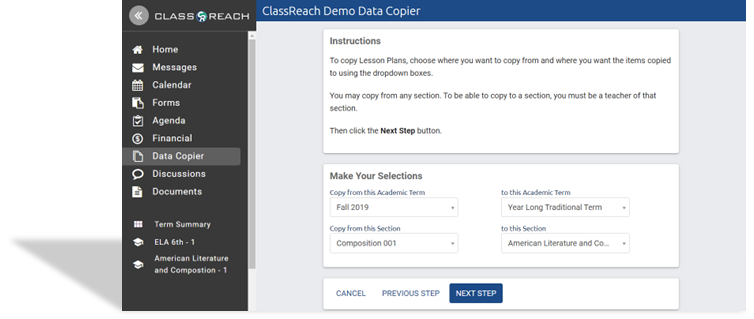 Build a seamless teaching environment that fosters academic success. Reuse section materials for a more efficient work environment.
Teachers can customize and transfer:
Handouts
Lesson plans

Course resources

Agenda and Task Items

Ensure everyone is on the same page and set the semester's tone with a structured and organized schedule. Allow teachers to provide guardians and students with a simple view of the day-to-day learning objectives.
Lesson Plans allow teachers to:
Organize plans

Update parents

Motivate students

Encourage communication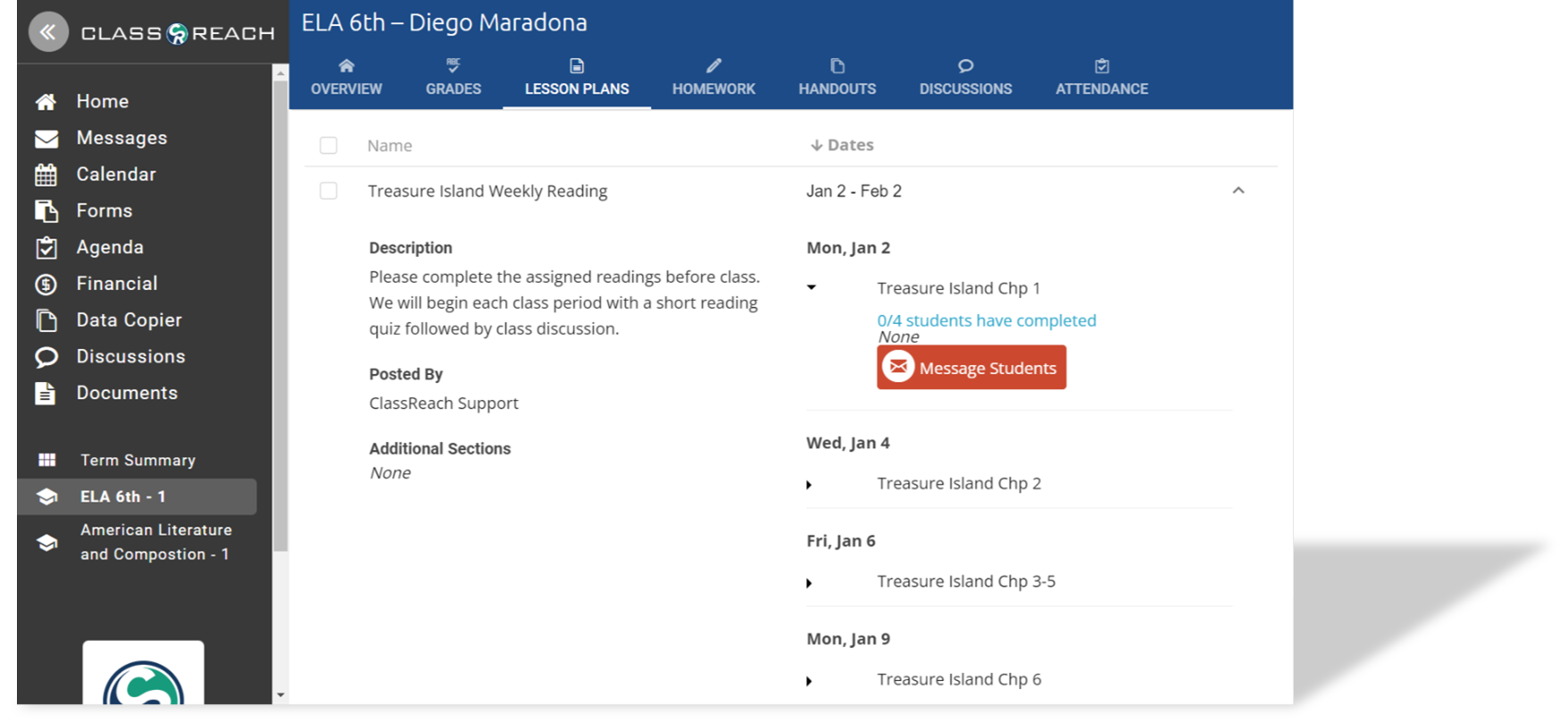 Offer your students the opportunity to review class material and grant parents a chance to see their child's growth over the semester. Establish an educational experience like no other with:
Assignment messaging

Student submissions button




Automatic

grade-book creation
Schedule a virtual demo to see how you can offer your students more
ClassReach
FREEDemo
Request a free demo account to have access to :
Learning Management System
Gradebook

Attendance

Course Discussions

Teacher Tools

Lesson Plans

Homework