Looking for New school management software?
Discover the best school management software in the education technology industry. Don't settle for expensive, one-size-fits-all solutions that may not meet your school's needs.
ClassReach offers:
Comprehensive all-in-one solution.
Innovative tools and features.
Unmatched expert support at no additional cost.
Subscription plans for all school sizes.
Robust, biweekly feature updates.
Scroll down to explore how ClassReach can help your school succeed or schedule a free demo with us today and experience the difference for yourself.
| | | | |
| --- | --- | --- | --- |
| Common Features | | | ClassReach SMS |
| Grade Reporting | ✔ | | ✔ |
| Digital Data Storage | ✔ | | ✔ |
| Mobile Accessibility | ✔ | | ✔ |
| Teacher Tools | | ✔ | ✔ |
| Course Management | | ✔ | ✔ |
| System Reporting | | ✔ | ✔ |
| Communication Tools | | | ✔ |
| Financial Management | | | ✔ |
| Schoolwide Analytics | | | ✔ |
| | | | |
| --- | --- | --- | --- |
| | | Competitor 2 | |
| | | | NO CHARGE |
| | | | NO CHARGE |
| Tuition Billing and Invoicing | | | NO CHARGE |
| | $497 Setup Fee + $0.42 per student | $1000/year+$3.25 per student | NO CHARGE |
| | | | NO CHARGE |
| | Complicated | | Simple & Affordable |
Reimagining School Management
the ClassReach Difference: a detail-oriented design for all school sizes
While many other school management software companies claim to cater to the needs of every school, their pricing and plans often fall short. They lack the meticulous design required to truly address the unique requirements of different sized schools. Furthermore, their commitment to continuous improvement and customer feedback is questionable at best. Don't settle for stagnant solutions that fail to evolve with your school's changing needs.
Experience the true difference with ClassReach, where our pricing and plans are carefully crafted to meet your specific requirements, and where your feedback is valued and implemented to ensure an optimal and evolving school management experience.
Comprehensive Reporting and Analytics
Discover the power of ClassReach's innovative report creator and analytics solution, offering abundant reporting capabilities and comprehensive insights for your school's academic performance, financial analysis, and more, with the freedom to configure reports to your unique needs. Don't settle for limited reporting capabilities; take control and unleash the potential of your school's data.
Empower your school with an advanced report creator and analytics platform.
Gain comprehensive insights and visualizations for academic performance and financial analysis.
Configure reports to meet your school's unique requirements.
Take control of your school's data and make informed decisions.
Learn more about making data-driven decisions with ClassReach Analytics.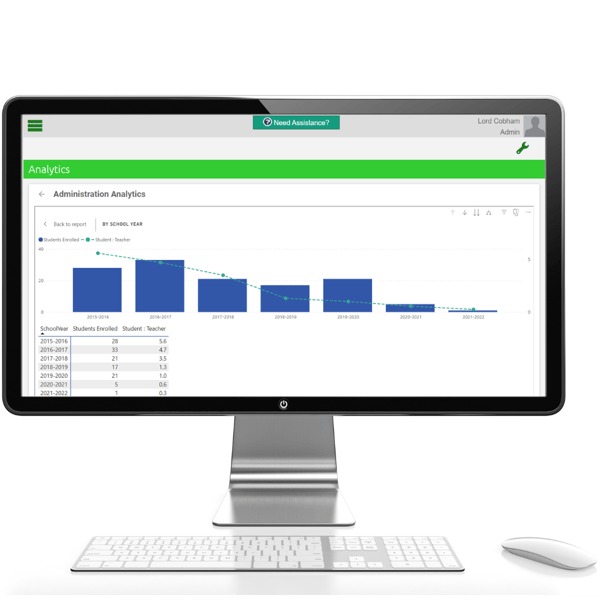 Unmatched Premium Support
Unlike most other software companies, ClassReach stands out with our consistent and knowledgeable support base. We take pride in offering premium support that surpasses the competition in the School Management Software industry.
Our unwavering commitment is to provide you with the most effective and efficient support tailored to your school's needs. From our comprehensive help docs collection to expert training services, we offer a range of resources to empower your team. Experience the ClassReach advantage and elevate your school management experience today.
Discover the ultimate resource for comprehensive help documentation covering every aspect of our School Management Software. Introducing our extensive collection of Ultimate Help Articles, designed to assist both new and experienced school administrators.

Explore a wide range of topics within our help articles that include:
Best practices.
Feature overviews.
Comprehensive guides.
Frequently asked questions.

Ready for the ultimate self-help experience?
Click here to access our Help Articles collection and elevate your skills and knowledge to new heights!
As a valued administrator, your pivotal role drives the success of your school. We understand that any hiccups with your school management system can have far-reaching consequences. That's precisely why we're dedicated to providing top-notch assistance through our premium support service for administrators, all at no extra cost!
Our comprehensive support service for admins comes with a range of invaluable benefits:
Expert guidance and advice.
Swift troubleshooting and problem-solving.
Best practices and technology management tips.
Knowledge base and support community.
We are fully committed to your success as an administrator. That's why we proudly offer support at no additional cost, standing by to help you conquer any challenges that come your way.
What size school works best with ClassReach?

ClassReach is a highly configurable system that meets the needs of any size school. We've worked with start-up schools, schools with thousands of students, and everything in between. We've even worked with schools operating across multiple campuses!

Our powerful features are designed to help schools thrive as they grow!

Does ClassReach offer any tools to help migrate data when switching from another software?

Yes, ClassReach offers self service import tools that allow new admin to bring their users and courses with them. Our transfer tab makes building historical grade records for high school students simple.

We have a knowledgeable and friendly implementation team that has access to additional tools to bring the most important pieces of data with you. Your personal sales rep can discuss the specific needs and can even bring in an implementation member for consultation before the purchasing process is completed!

How can I access the FREE ClassReach Demo Account?

Classreach offers 30 days of free access to our full feature demo account! This access provides a login and password to a mock account where you can play with the system and input dummy data provided by ClassReach.