Elevate Decision-Making and Propel Educational Success
Configurable SIS Reporting: Empowering Academic Excellence
Unlock actionable insights for informed decisions, driving academic brilliance. With the ClassReach student information reporting software, administrators can choose from default or custom reports to meet your school's unique needs. Explore diverse reporting options like:
Comprehensive grade reports,
Detailed attendance tracking,
User and family reports for personalized insights,
Financial reports for transparent financial management.
Schedule a free demo to unlock your school's boundless potential with ClassReach Reports.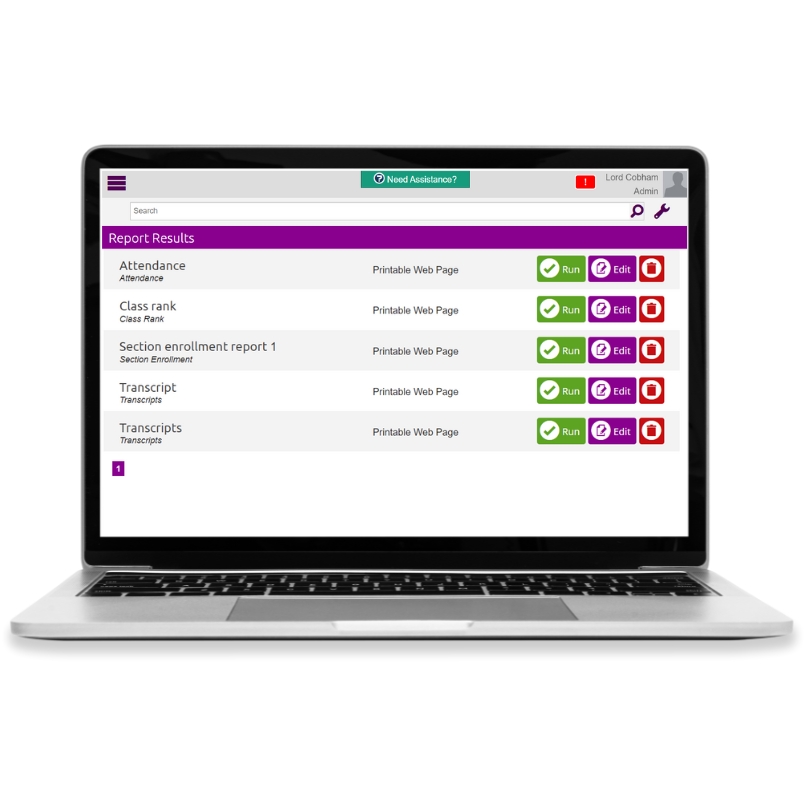 Student information System Report Creator
Configurable Reporting
Unlock valuable insights and elevate the educational experience with ClassReach's powerful configurable reporting feature. Whether you seek the convenience of default reports or the flexibility of custom reports tailored to your school's specific requirements, ClassReach Reports offers a comprehensive solution to meet your needs.
Configurable data fields
Advanced filters
Seamless export capabilities


Schedule a demo today to revolutionize your educational experience with ClassReach Configurable Reports.
Exportable Reports
Experience ClassReach's flexible report creator, exporting meticulously configured reports for versatile sharing and analysis. Choose from multiple export options, including:
Downloadable PDF Reports: Easily download reports in PDF format from ClassReach Reports, providing portable and universally compatible files for convenient access and seamless sharing across devices and platforms.
High-Quality Printable Web Pages: Enjoy the convenience of high-quality printable web pages with ClassReach Reports. Effortlessly distribute, archive, and maintain records with professional-grade prints that meet your school's needs.
Elevate your reporting capabilities with us today!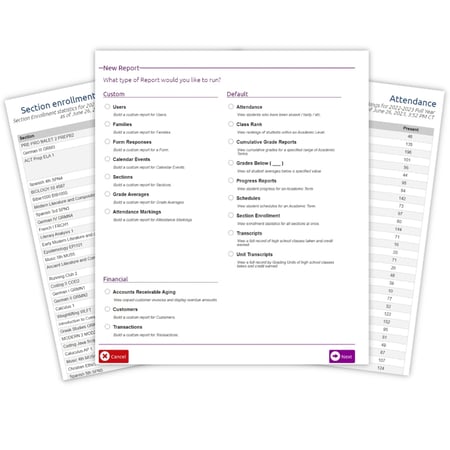 What other notable features does The Report Creator Offer?
The report creator in ClassReach offers a range of notable features to enhance your reporting capabilities. In addition to the exportable reports and configurable reporting you can also benefit from:
Comprehensive Grade Reports: Gain a comprehensive overview of student performance with in-depth grade reports, providing valuable insights into academic progress and achievements.
Detailed Attendance Tracking: Keep track of student attendance patterns and trends with detailed attendance tracking reports, enabling efficient monitoring and analysis of student attendance records.
User and Family Reports for Personalized Insights: Access user reports like transcripts that provide personalized insights, allowing you to understand individual student progress and engage with families effectively.
Financial Reports for Transparent Financial Management: Ensure transparent financial management with financial reports that provide a clear overview of your school's financial performance, expenses, and revenue.
These features provide valuable insights and facilitate informed decision-making for academic success and efficient financial management.
How does ClassReach's configurable reporting benefit my school?

ClassReach's configurable reporting empowers you to tailor your reports to meet your school's specific requirements. You can choose from default reports or create custom reports.

The configurable data fields, advanced filters, and seamless export capabilities provide valuable insights for informed decision-making, driving academic excellence.

Can I export the reports generated by ClassReach's report creator?

Yes, ClassReach offers exportable reports in various formats. You can easily download reports in PDF format for convenient access and sharing. Additionally, you can enjoy high-quality printable web pages for professional-grade prints as well as csv files.

How can ClassReach Reports enhance the educational experience?

ClassReach Reports enhances education with actionable insights for informed decisions. Grade reports, attendance tracking, user/family reports, and financial reports provide valuable information for academic success. Understand student performance, attendance, progress, and finances. Improve outcomes and success!