SECURE YOUR SCHOOL INFORMATION WITH CLASSREACH
Experience a revolutionary way of managing your school's data with the ClassReach Student Information System! Say farewell to administrative headaches and welcome efficiency, accuracy, and flexibility into your school.
Our comprehensive set of features, including online tuition invoicing, the transcript creator, and customizable reports, is designed to modernize your school's data storage and enhance your financial management while improving student progress tracking.
Don't hesitate! Request a free demo today and discover how our Student Information System can benefit your school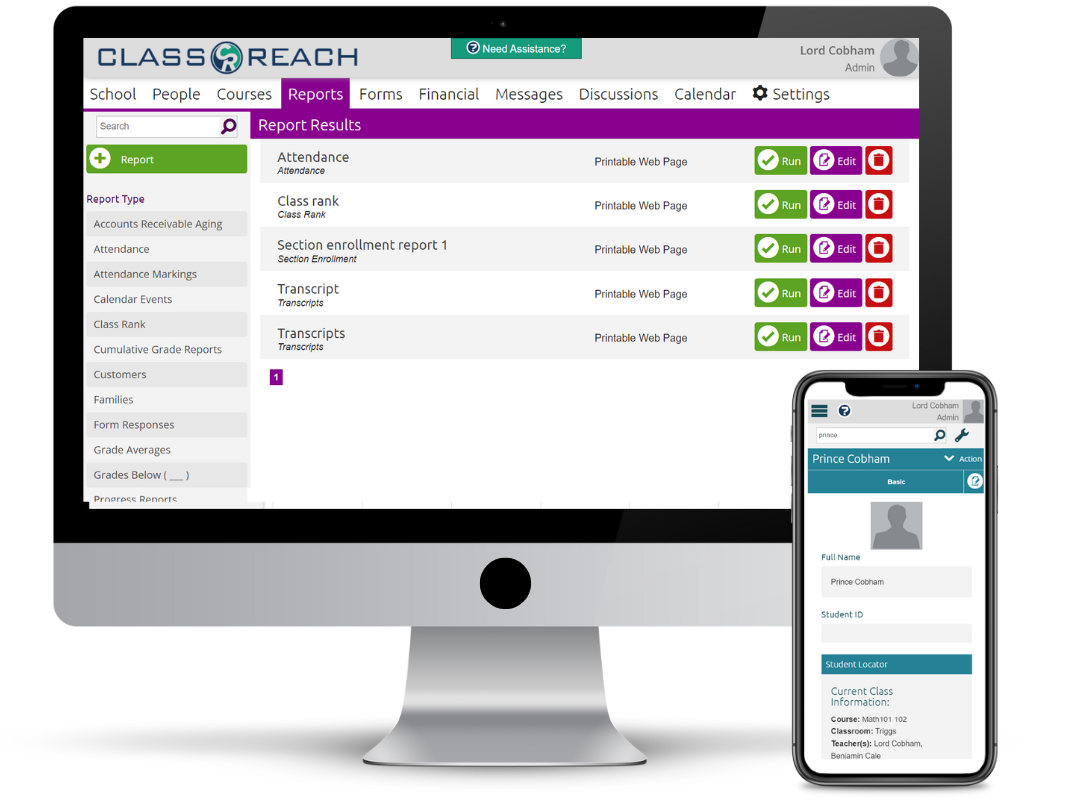 WHAT MAKES THE CLASSREACH STUDENT INFORMATION SYSTEM so Valuable?
The ClassReach Student Information System is designed to prioritize the safety and security of student information and data privacy.
Our approach to data privacy and information management is geared towards ensuring positive educational outcomes while keeping data entry minimal for school administrators.
Our commitment to security is vital to support the Student Information Solutions in ClassReach. We offer a wide variety of student data management tools, such as:
Use ClassReach to minimize the registrar's data entry workload and prevent clerical errors. Users are automatically created upon application approval.
The ClassReach admissions process provides tools to
Approve, deny, hold, or revise applications

Accept payments at the time of application

Provide confirmations to pending applicants
Speak to a ClassReach professional about how to simplify your admissions process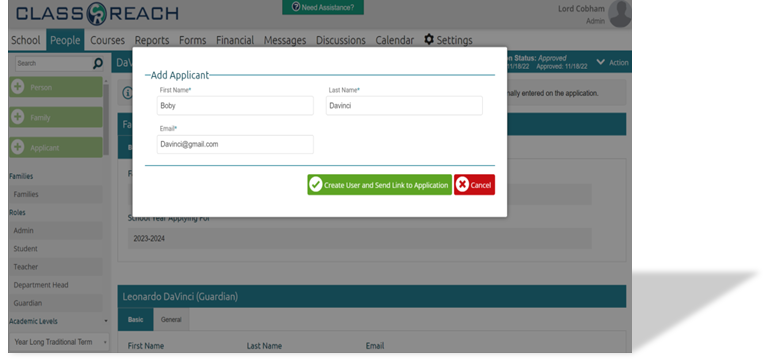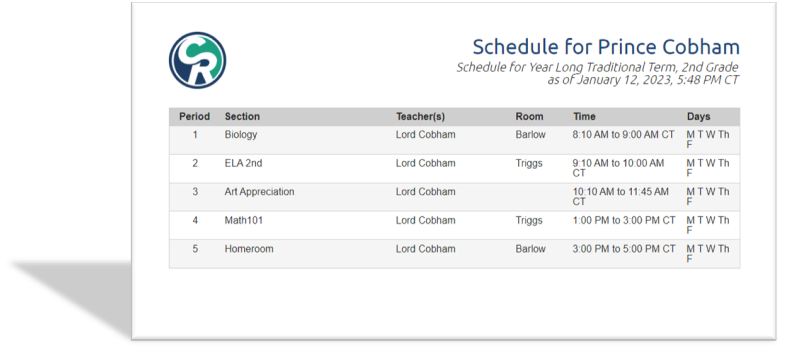 The course registration process is designed to minimize inconveniences during the enrollment process.
Plan schedules that keep guardians, students, and teachers on the same page using instant notification when a student or teacher is overbooked.
Our schedule features allow admins to:
Identify and eliminate schedule conflicts

Quickly locate students during a school day

Print professional and informative schedules
Request a free demo to learn about resolving schedule conflicts with ClassReach
High-powered course and gradebook tools that give administrators and teachers flexibility designed to strengthen the school's course offerings and create professional student progress reports along the way.
Give guardians and students access to:
Course Content

Built-in daily progress reports

Instant teacher messaging
Request a free demo to see a student progress report example today!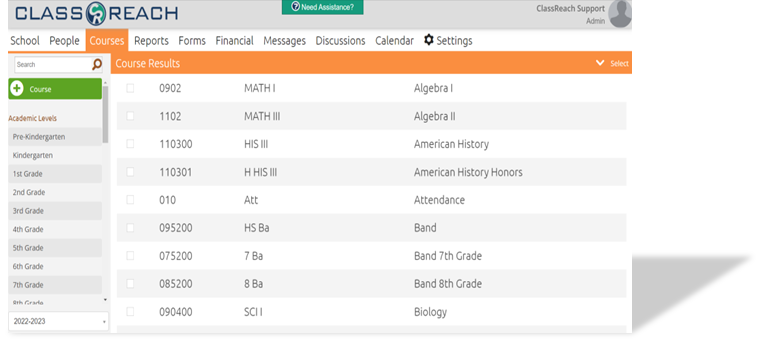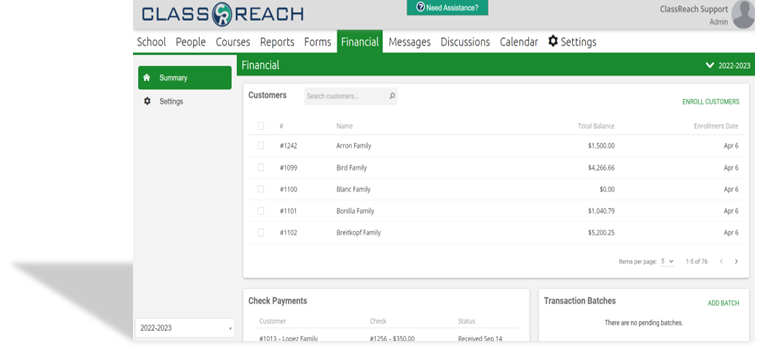 Utilize easy invoicing tools and empower your strategic financial plan. Parents can access and pay all within the same login they use to view student progress.
The financial agreement feature allows admins to create invoices with a single click!
Use the financial suite to:
Accept cash, checks, ACH, and credit/debit card payments

Create invoices for individual families or in bulk

Set up payment plan options and automate recurring payment
Try a free demo today to see how we can help improve your school's invoicing process
Transcripts provide an academic record within the student database management system. Simple student transcript creation is a must-have feature!
Transcript allows you to:
Provide students with access to get transcripts online

Configure transcript footer and course details

Transfer course information from previously attended institutions
With our free demo, you can try out our transcript tool for yourself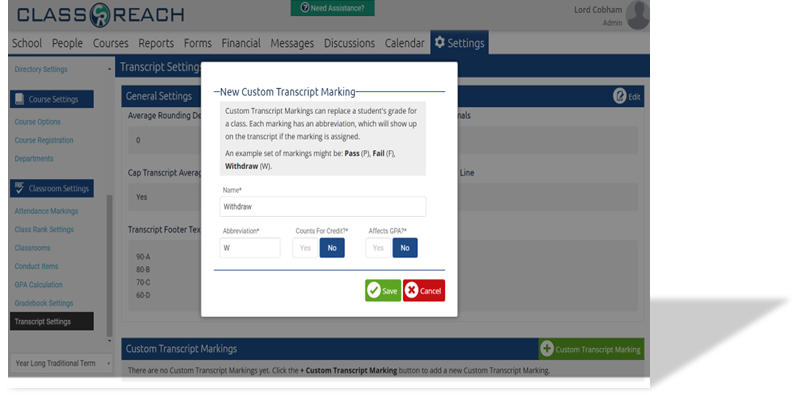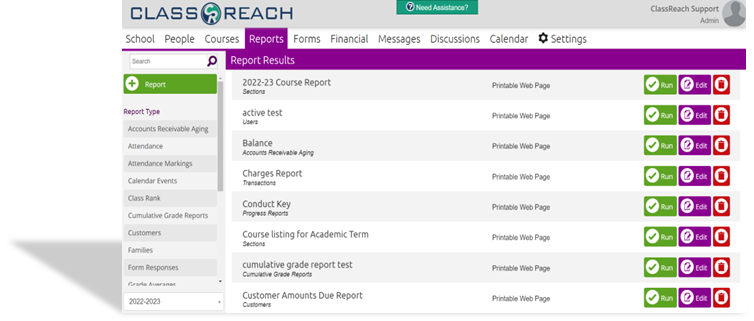 Generate reports using the data that is available within your ClassReach software. Use default reports or configure custom reports with our ad-hoc reports engine to fit the needs of your institution.
Some report types include:
Grade and attendance reports

User and family reports

Financial reports
CLASSREACH
FREE DEMO
Request a free demo account to have access to:
Student Information System
Application Management
Schoolwide Schedule
Courses
Online Tuition Invoicing
Transcripts
Powerful Reporting
Frequently Asked Data Storage Questions
How is the student data managed and backed up?

ClassReach is hosted in Microsoft Azure, with geo-redundant back-ups.

How quickly can the student information be accessed once it is inputted into the student database?

ClassReach has an uptime guarantee of 99.9%, allowing you to access your data anytime from anywhere.

Is data encrypted to protect my student's information?

ClassReach provides end to end encryption, in transit and at rest to ensure student data is fully protected.