Easy to use Online gradebook software
Welcome to the ClassReach Gradebook, where you can elevate your school's grading system to new heights.
Dive into the advanced capabilities of our robust gradebook software, providing you with unparalleled efficiency and precision.
Say goodbye to manual grading and embrace a streamlined grading process that saves time and enhances accuracy.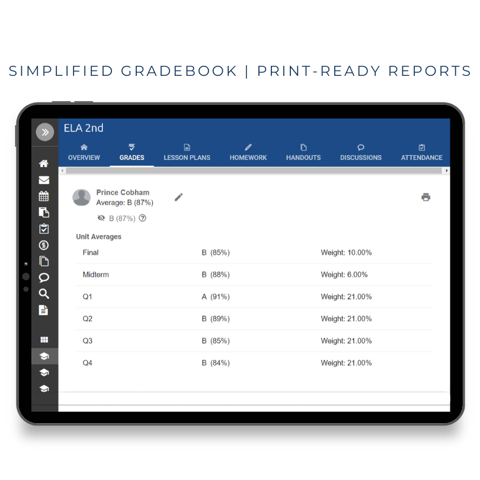 Teacher's Gradebook
The gradebook, accessible on mobile devices, offers valuable information to teachers regarding student advancement, letter grades, and achievements. In your role as an educator, you have the ability to:
Evaluate assignments
Share comments
View grade statistics


Discover a revolutionary grading experience through our free demo.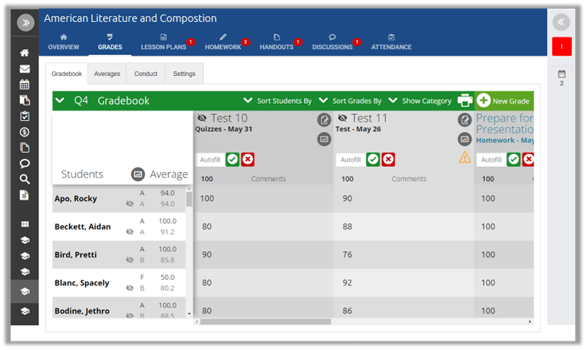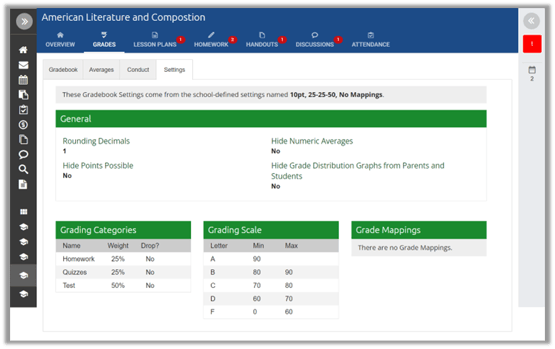 Gradebook Settings
Experience seamless academic management with ClassReach's customizable gradebook settings. Elevate your teaching workflow and empower educators with configurable ClassReach gradebook settings:
Grade Mappings: Align grading criteria and scales to unique assessment methods.
Averages Calculation: Accurately calculate averages by category and overall.
Grade Weighting: Assign different levels of importance to assessments and drop lowest grade if desired.
By
utilizing configurable gradebook settings in our learning management solution, educators can tailor the grading system to their needs!
What notable features does classreach offer alongside a customizable gradebook?
In addition to a configurable gradebook, our learning management system (LMS) software offers a range of features that streamline teaching and learning:
Attendance Tracking: Seamlessly manage and track student attendance with our intuitive learning management system.
Course Discussions: Promote active participation and student engagement through interactive course discussions.
Teacher Tools: Empower educators with essential tools for efficient lesson planning, resource management, and classroom organization.
Lesson Plans: Easily create, organize, and share comprehensive lesson plans to enhance teaching effectiveness.
Homework: Assign, collect, and grade homework assignments effortlessly with our gradebook software.
These features, when combined with a customizable gradebook, enable educators to create an efficient learning environment that promotes student success and effective teaching practices.

Can I import existing student data into the gradebook software?

Our implementation team can work directly with your school to ensure the proper data is migrated during the onboarding process.

We have import tools to help input historical grades, users, and courses.

Contact your sales rep or request a free demo to learn more about the onboarding process

Does the gradebook software support integration with other learning management systems or student information systems?

At ClassReach, we have an all-in-one school management software that provides solutions for learning management, storing student information, and analytics.

Our gradebook software is designed to work harmoniously with other solutions we provide, allowing for streamlined data sharing and enhanced efficiency in academic management.

At this time we do not integrate with other learning management platforms. Many schools that have made the switch from our competitors have found that they could reduce the need for multiple platforms by working with ClassReach.

We've helped schools consolidate systems and switch from FACTS School Management, Google Classroom, Schoology, Praxi, Alma, and Jupiter. There are many software systems out there for schools to consider. Our knowledgeable sales representatives can assist you in determining if ClassReach can meet the needs of your school and help you identify next steps.

Not ready to talk to a sales rep yet? We understand! Learn how our price stacks up to our competitors here!

Is it possible to customize grade calculations and weighting based on my specific grading policies?

Yes, it is absolutely possible to customize grade calculations and weighting based on your specific grading policies. At ClassReach, we understand the importance of tailoring the grading system to meet your unique needs. Our gradebook software allows you to:

Calculate cumulative averages: Easily compute cumulative averages to gain valuable insights into students' progress, letter grades, and overall achievements.
Display and track grade trends: Monitor and analyze grade trends over time to identify areas of improvement and track student growth.
Monitor student growth over time: With our customizable grade calculations, you can accurately track and measure student growth, providing valuable feedback for personalized instruction.

With ClassReach, you have the flexibility to adapt the grading system to align with your specific grading policies, empowering you to effectively evaluate student performance.