REFRESH YOUR SCHOOL MANAGEMENT SOFTWARE WITH CLASSREACH
Looking for a more efficient way to streamline your classroom tasks? Our powerful web-based school management software provides innovative tools to help you manage everything in one place.
With features such as grade tracking, attendance records, the form creator, and more, you can focus on what matters most - educating your students.
Try our school software now and see how it can transform your classroom and improve your school's efficiency.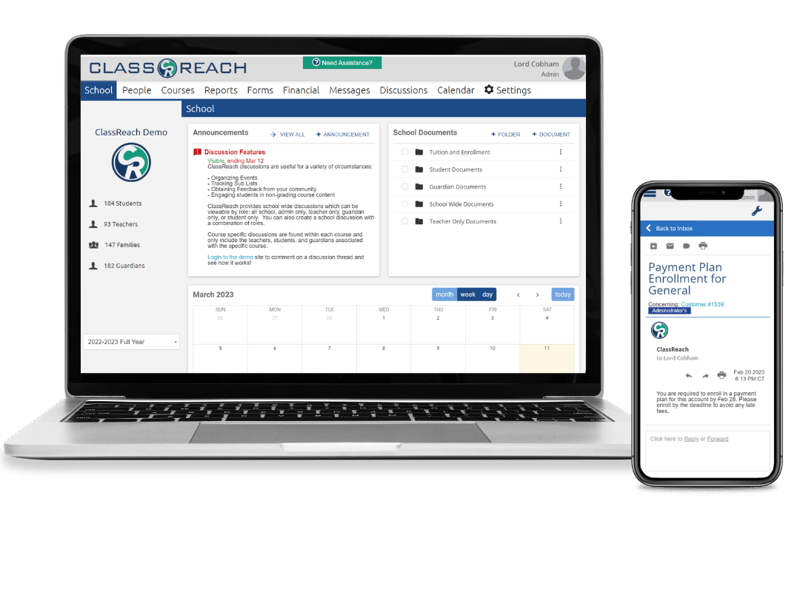 What are the advantages of using ClassReach as your school management system?
ClassReach facilitates the delivery of critical school data like events, grades, and attendance. Our School Management Software helps strengthen the bond between home, faculty, and institution.
In addition to innovative management tools, ClassReach offers administrators access to a range of proactive solutions that contribute to the smooth operation of school systems.
ClassReach's platform allows admins to easily create, monitor, and manage:
REVOLUTIONIZE

ADMINISTRATION WITH CLASSREACH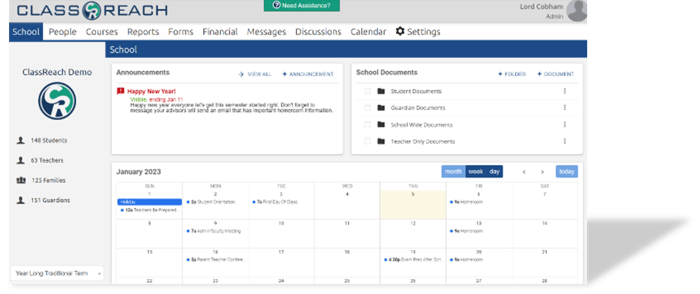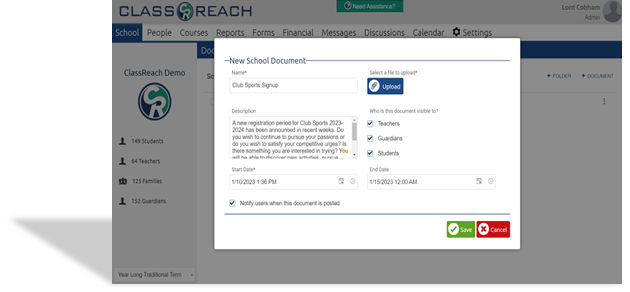 We are taking school forms to new heights to increase the level of communication between staff, guardians, and students. The forms can be customized and created according to your specific needs and requirements.
With the help of the forms creator, you can:
Create and share

professional forms

Build reports using form responses

Enable

payments

and

workflows
Discover how we can help your school innovate forms by trying a free demo today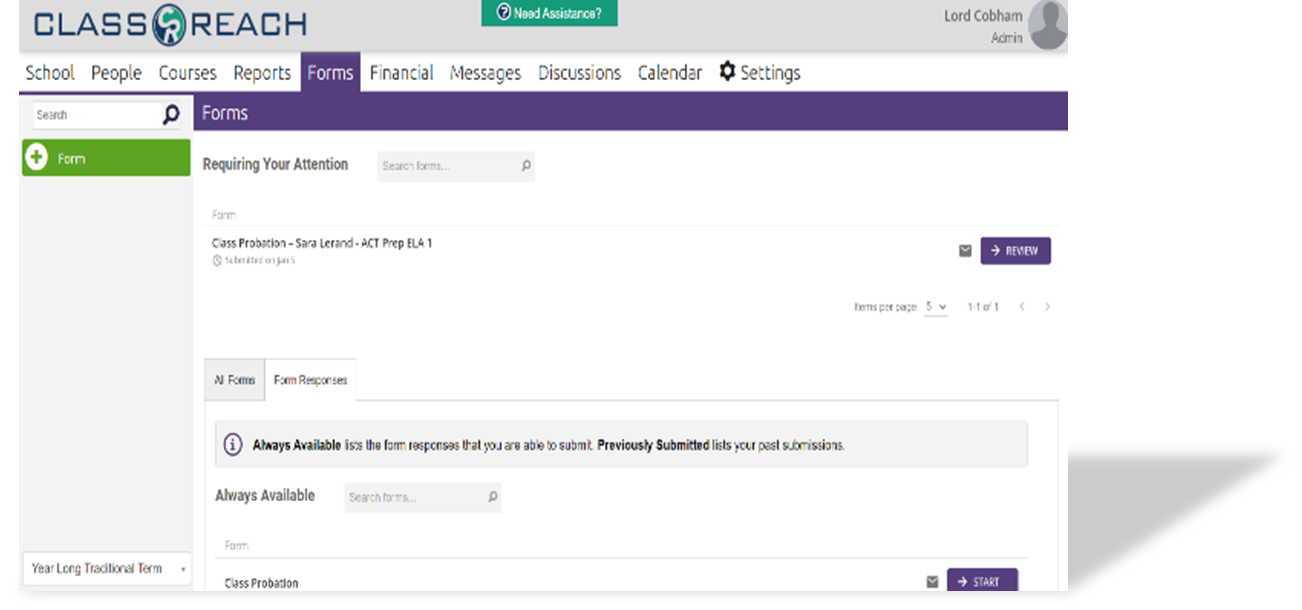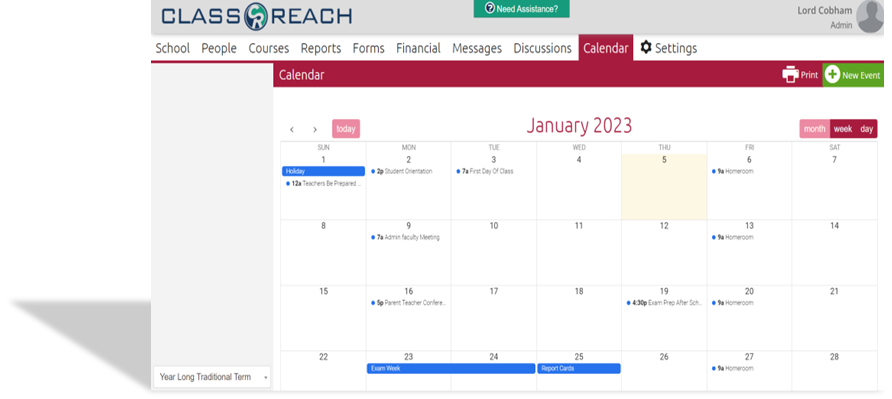 With the school-wide calendar, staff are given a whole new perspective on the concept of a schedule. With this tool, your team can evaluate the planned academic semester's structure in a simple and intuitive manner.
To ease your planning, The Calendar allows you to:
Configure events

Print and download

Filter events

View Monthly/Weekly
Learn how we can help you organize your schedule with our free demo
Easily communicate with your faculty and learn what teachers need with our effortless messaging system. Our message copy feature keeps guardians informed about all messages sent to and from students.
Using our direct and simple system, you can:
Send, receive, and archive messages

Use prebuilt groups or create your own

Organize your inbox using labels and filters
Talk to a sales expert about using messaging to keep guardians engaged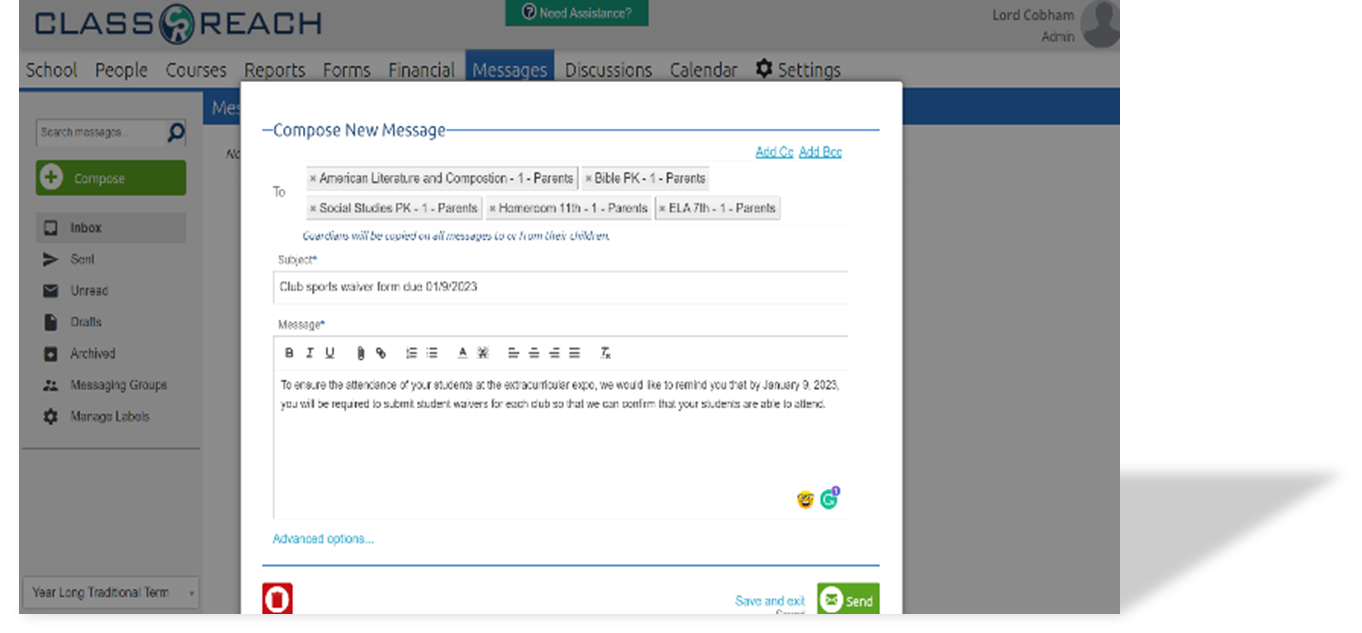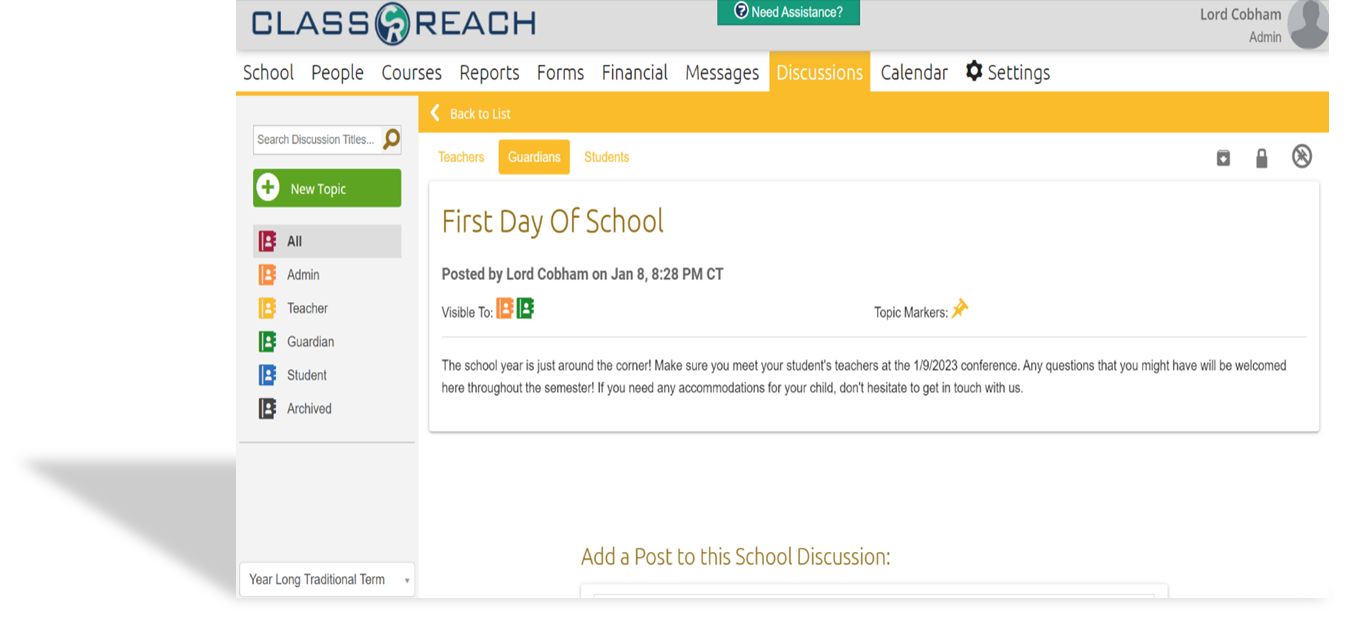 Foster a culture of seamless communication and curiosity by creating meaningful discussions. School-wide discussions will improve the conversation between all participants and help them become better acquainted with your community.
Discussion Tools Include:
Visibility filter by roles

Pinning and archiving

Postdate filters and post counter
Request a free demo to learn how we can help you grow the conversation.
Classreach free demo
Request a free demo account to have access to:
School Management System
School Overview

Documents

Forms

Calander

Messages

School Discussions