The Best School Management Software For Administrators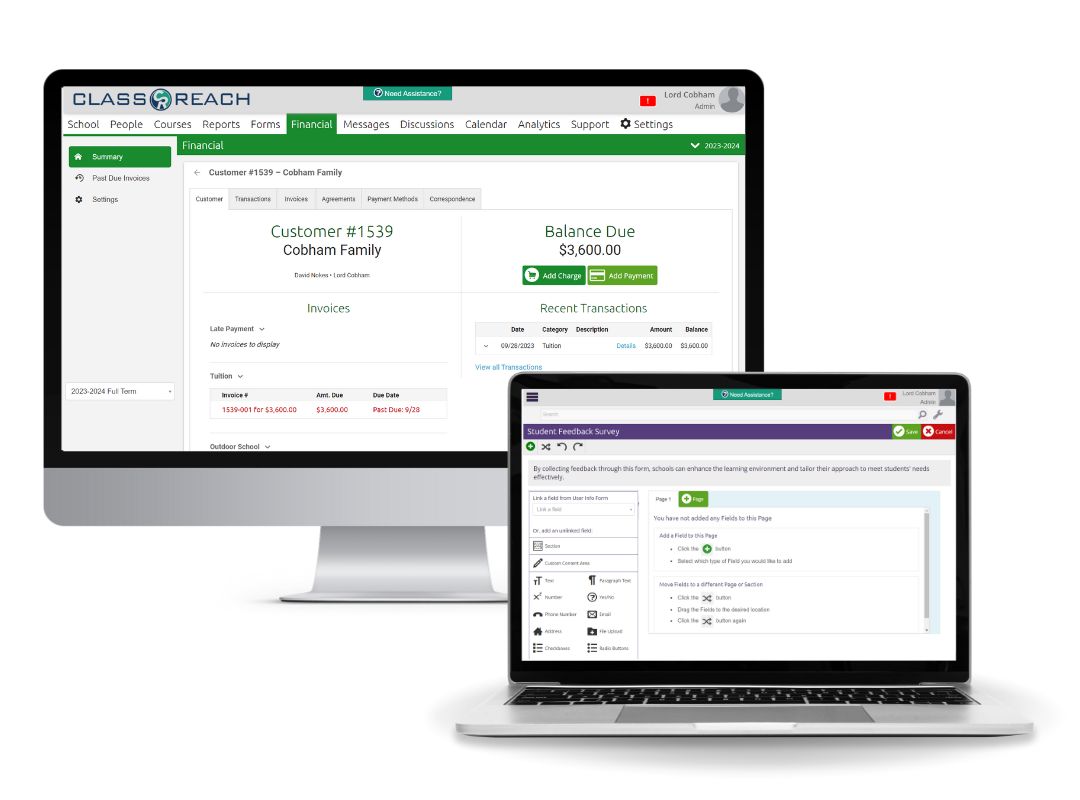 Empowering Every Administrative Role
From registrar and business manager to academic dean and beyond, ClassReach is dedicated to equipping you with the tools you need to succeed and grow your school.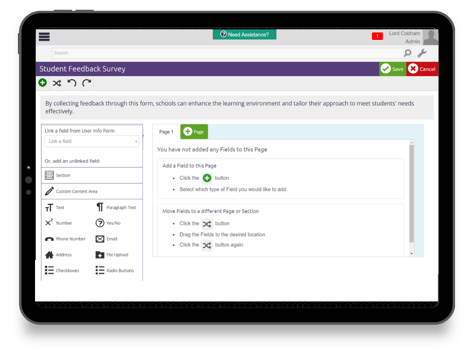 Registrar's Corner:
Simplify attendance tracking and administrative paperwork with our user-friendly attendance and forms features. Manage student information effortlessly, giving your school administration a productivity boost.
Discover how ClassReach can help you:
Academic Excellence Zone
Manage student grades and curriculum oversight seamlessly, ensuring academic excellence at every step. With ClassReach, maintaining a top-notch student management system is within your reach.
Here are some key features that can help you improve academic excellence :
Grade Reports: Access comprehensive student grade reports effortlessly.

Curriculum Oversight: Evaluate curriculum and assignment quality seamlessly, maintaining a top-notch student management system.
Want to enhance your school's academic performance? Sign up for a FREE DEMO today!
Curriculum Innovation Suite
Create an engaging and dynamic educational environment with our advanced lesson planning and LMS features. Experience a new level of interactive learning for your students.
Our LMS includes features like
Gradebook

Attendance

Course Discussions

Teacher Tools

Lesson Plans

Homework
Learn more about transforming your curriculum with the ClassReach LMS.
Business Manager's Hub:
Effortlessly handle tuition invoicing and financial agreements with our comprehensive financial management tools. Let ClassReach take the complexity out of your school's financial operations.
Explore features like: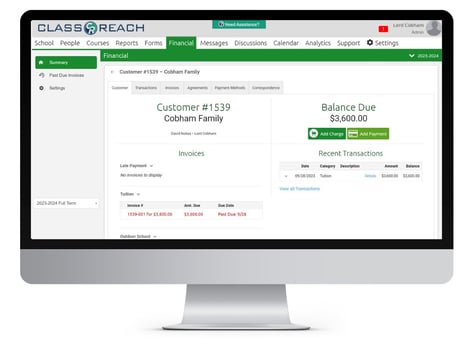 Head of School's Control Center:
Do you need to plan for your school's future? With ClassReach you can make data-driven decisions with our comprehensive analytics and centralized calendar.
We offer tools that allow you to
Gain valuable insights through detailed data analytics for strategic decision-making.

Coordinate school-wide events and activities seamlessly, optimizing your schools schedule.
Streamline Your School's Operations and explore ClassReach's Comprehensive Solutions!
Principal's Office:
Foster effective communication and streamlined behavior management, helping you maintain a harmonious environment from within your school.
Our SMS features can help you:
Maintain comprehensive behavior records for effective intervention.

Facilitate seamless communication among staff, students, and parents, creating a cohesive community.
Elevate Your School's Leadership with ClassReach's Dynamic Communication Tools!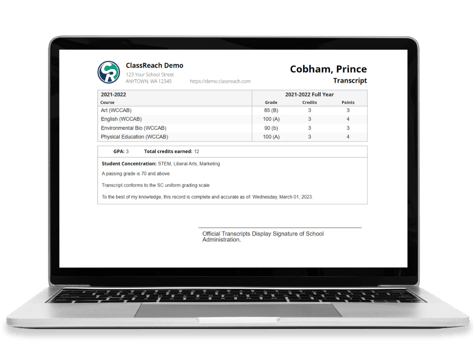 College Counselor's Oasis:
Simplify the college application process and transcript tracking for your students. Let ClassReach be your reliable companion in facilitating a smooth transition.
Some features that can help you include:
Transcript Management: Easily manage and access student transcripts within the student management system.

Custom Grade Markings: Easily record different types of courses all in one place, effectively creating a snapshot of the student's online information record
Explore the College Counseling Advantage of ClassReach's Student Information System!
Dean of Admissions' Junction:
Make the admissions process hassle-free with our user-friendly tools and streamlined inquiry forms. Create an inclusive and welcoming atmosphere for prospective students and parents.
We can help you streamline admissions with:
Efficient Application Management: Simplify and manage the school's application process.

Streamlined Inquiry Forms: Gather and manage online inquiries effectively within the student information system.
Connecting Administrative Excellence with ClassReach
For administrators like you, ClassReach provides a seamless and intuitive experience across all mobile devices. This means you can efficiently oversee and manage crucial tasks while accessing vital information on the go. Our platform fosters improved connectivity, streamlining school management and enabling you to focus on what matters most – the growth of your school.
Empower your role with ClassReach by:
Streamlining Access to Crucial Information: Effortlessly make informed decisions with quick access to essential data, ensuring timely and effective management.
Fostering Transparent Communication: Cultivate a culture of open communication and active engagement among stakeholders, ensuring everyone stays informed and involved.
Facilitating Smooth Coordination: Promote seamless collaboration between school administrators, teachers, and parents, fostering a cohesive and supportive educational environment.
Learn more about the benefits of on-the-go administration today!
What makes ClassReach stand out in terms of simplifying administrative tasks?

ClassReach is designed with intuitive features to simplify the most complex administrative tasks, such as attendance tracking, curriculum oversight, and financial management. Our user-friendly tools and comprehensive reports empower administrators to handle these tasks effortlessly, fostering an environment of efficiency and productivity.

How does ClassReach facilitate effective communication and coordination between administrators and stakeholders?

ClassReach provides a seamless and intuitive experience across all devices, enabling administrators to access crucial information and foster transparent communication effortlessly. Our platform promotes smooth coordination between school administrators, teachers, and parents, fostering a collaborative and supportive educational environment. By cultivating open communication and active engagement, ClassReach empowers administrators to build a cohesive school community that prioritizes effective communication and engagement.

How does school administrative software unify a school's administrative team?

By providing a centralized platform, adminsitrative software enables:

Easy access to critical student, teacher, and curriculum-related data.
Seamless communication among administrative staff, promoting effective collaboration.
Efficient handling and organization of crucial information, fostering streamlined administrative processes and improved decision-making.