From Application to Graduation
ClassReach is an easy-to-use, web-based School Management Software
Our Vision
To build bridges in education using innovative solutions that connect parents, students, and teachers to their data.
ClassReach is Powerful, Intuitive, Mobile and available at an affordable price.
Our Story
We began in an effort to consolidate many software systems and administrative tasks into one powerful, intuitive, and mobile solution that could do everything in one place.
We have combined the best in school management tools with leading SIS features to provide a platform to effectively manage your school.
Use ClassReach Anywhere
on any device
ClassReach has innovative design features that enable schools of all types and sizes to manage their data on any device.
"I like Classreach because the support and behind the scenes work that is going on to continually improve Classreach is trustworthy. The support is ongoing, kind, informational, and consistent."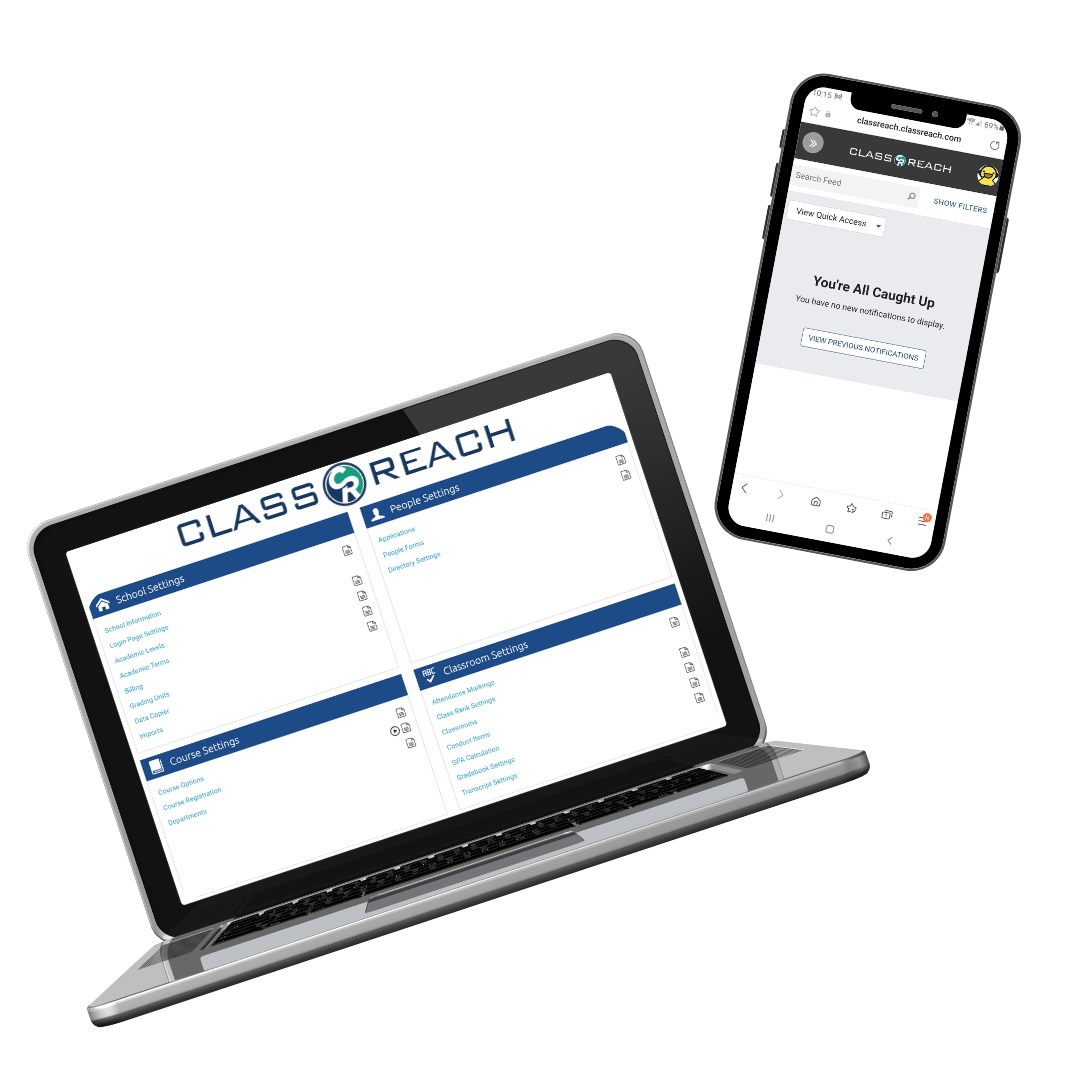 "I have been very happy with Classreach for our school. It provides an easy way for our teachers and administrators to communicate with parents and students."
FREQUENTLY ASKED QUESTIONS
How long does it take to set up my new ClassReach Account?

Our support professionals work hand in hand with each school to ensure that your data is migrated properly and your software is configured to meet your school's unique design.

Many factors including age of the school and the admin's familiarity with education technology can impact the length of time needed to be fully configured.

Our sales professionals can help determine a specific timeline for your school! Want to know more about how to get set up?

Does ClassReach have an App?

ClassReach is a website application with a highly responsive mobile design. This means you can access our full site from any device anywhere with an internet connection. There is no app download required!

Many of our users log in using their mobile devices. This is especially useful for teachers taking attendance and grades during class time.

We also offer a downloadable app for notification purposes. The app provides easy access to your data and links you to the full website application.

What are your company's core values?

Our core values include:

Stewardship: managing the blessings we've been given with wisdom and discernment
Transparency: saying what we mean and following through on time, with integrity
Innovation: leading the way in developing solutions for all education stakeholders
Agile Development: providing frequent, consistent updates to create a powerful, reliable solution
Employee Appreciation: recognizing the hard work and success of our committed team members