NAVIGATE THE WORLD OF STUDENT INFORMATION
YOUR ULTIMATE GUIDE TO FINDING THE best Student information system
What Should You Consider When Choosing a Student Information System?
Choosing the best student information system (SIS) for your school can be daunting. With so many software companies out there offering various solutions, it's difficult to know which one will meet your school's unique needs.
You need an SIS that is comprehensive and easy to use, providing a one-stop shop for all your school's academic, administrative, and communication needs. But with so many options available, how do you know which to choose? You don't want to invest time and money in a system that won't work for your school.
That's why it's essential to research and compare different SIS providers. You need to consider your budget, your specific needs, and customer support.
The good news is that there are many resources available to help you make an informed decision. This student information system buyer's guide will provide you with all the information you need to choose the best student information software. From features to pricing to support, we'll cover everything you need to know to make the most informed decision for your school.
Understanding Student Information Systems: What They Are and Why Your School Needs One
A student information management system is a software application that allows schools to manage student-related data and information such as tuition, transcripts, student attendance tracking, and more. It provides a centralized and secure platform for schools to track students' academic progress and administrative needs.
Some benefits of using a student management software include :
Streamlined data management and organization
Increased efficiency and accuracy in administrative tasks
Improvement in schoolwide communications between teachers, students, and parents
Easy access to student records, transcripts, student enrollment, and progress reports
Ability to generate custom reports and analytics to inform decision-making.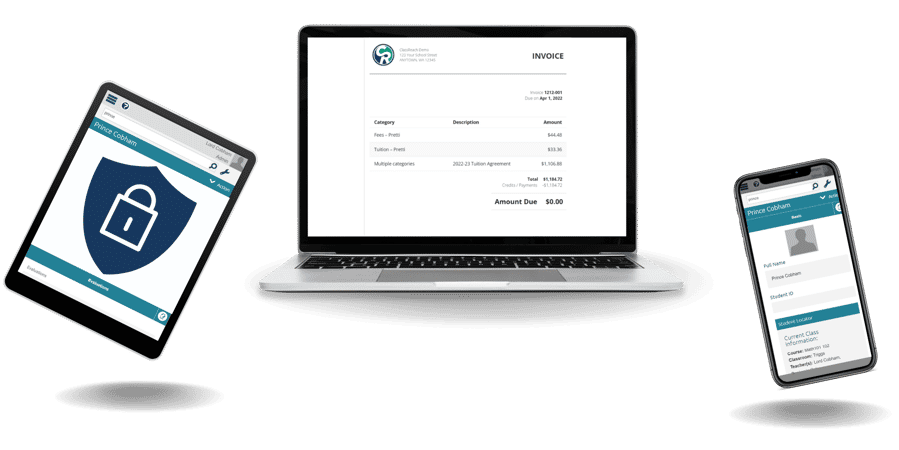 A student management system is essential for schools to manage their student-related data effectively and improve their overall operational efficiency. It offers various benefits, such as improving data management and providing data analytics and schoolwide reporting capabilities.
If you want to improve your school's data management and operational efficiency, consider implementing reliable and efficient student information software. Don't wait, take the first step towards streamlining your school's administrative tasks, enhancing communication, and making data-driven decisions today!
Learn more about the ClassReach Student Information System features and how they can benefit your school.
Common Features of a Student Information System
Most Student Information Systems (SIS) offer solutions that simplify academic and administrative tasks for educators, enabling them to access accurate and up-to-date data.
Reliable software for student data management is vital for schools to streamline operations and provide students with the best education possible.
By doing so, educators can make informed decisions, communicate effectively, and ultimately enhance the educational experience.
We offer these features and more, check out our solutions to experience seamless integration.
WHAT TO LOOK FOR WHEN CHOOSING A STUDENT INFORMATION SYSTEM
When selecting the best student information system, there are several key factors to consider. Here are some things to look for to ensure you choose the right system for your school:
As a school, ensuring your student information solution has a user-friendly interface is essential. Having school software that is easy to use can:
Save time and improve productivity.
Help minimize errors with clear and simple instructions
Enhance communication between users.
Increase adoption and utilization of the system for better data management and analysis.
Provide easy access to attendance, grades, and schedules for students and parents.
Enable teachers to input and track student progress and assessment data easily.
Improve accessibility for students and teachers with disabilities.
Refine the overall user experience for increased satisfaction and improved relationships.


A student information system that is customizable and flexible can adapt to your school's unique needs and workflows, and can help you to:
Streamline administrative tasks and reduce workload.
Improve data accuracy and consistency.
Facilitate better communication and collaboration between teachers, students, and parents.
Support a variety of instructional approaches and learning styles.
Increase data security and privacy by allowing you to control access to sensitive information.
Ensuring secure data in a student information system is crucial for safeguarding sensitive information and maintaining trust with stakeholders. Here are some of the reasons why data security is essential for schools:
Unauthorized access to sensitive information, such as student records, grades, and personal data, can lead to severe consequences for both individuals and the institution.
Cyber threats, such as hacking, phishing, and malware, pose significant risks to the confidentiality and integrity of student and staff data.
To mitigate these risks and ensure the safety of sensitive information, building trust with students, parents, and staff is essential. A strong reputation for the school can only be maintained when stakeholders feel confident that their personal data is protected.
In addition, maintaining the integrity of data is critical for accurate reporting and decision-making. Reliable information is necessary for the school to make informed decisions that support its goals and objectives.
Having access to support and training is crucial for ensuring the efficient use of the student information system and maximizing its potential benefits. Here are some of the reasons why support and training are essential:
Enables administrators to learn the system's functions and capabilities, making it easier to use and manage student and staff data effectively.

Ensures administrators can troubleshoot and resolve issues effectively, reducing downtime and improving productivity.

Encourages administrators to stay up to date with system updates and changes, ensuring they are using the latest features and functionality.

Provides guidance and best practices for using the system effectively, such as optimizing workflows and school data management.

Boosts confidence and proficiency in using the student information system, leading to improved user adoption and satisfaction.
Many student information solutions don't have integration capabilities, which can limit their usefulness and create inefficiencies. Here are some reasons why integration capabilities are important for a student information system:
Save time and reduce errors by automatically syncing data between different systems, such as attendance, grades, and assignments.
Improve communication and collaboration between different departments, such as academic affairs and student services.
Enable better decision-making by providing a more comprehensive and integrated view of student data and performance.
Provide a seamless user experience for students, parents, and staff by eliminating the need to switch between different systems.
Enable the use of specialized tools and applications that integrate with the student information system, such as learning management systems and assessment tools.
Comparing Student Information Systems Pricing Models: Which is Best for Your School?
When comparing student information systems pricing, it is important to consider which type of software will best fit the needs and budget of your school both now and in the future. There are three main types of pricing for student information systems: Perpetual License, Open Source, and Subscription Based.
A perpetual License is a pricing model that allows the buyer to purchase the software once at a high upfront cost. The buyer pays a licensing fee which may be based on the number of devices on which the software needs to be installed. Perpetual Licenses often require costly upgrades to obtain the most current version of the product and may become challenging in the event that your school needs support, training, or upgrades to physical software components like computers and tablets.
Open Source is a pricing model that is free of licensing fees, effectively reducing the upfront cost to a school. Open Source will require a dedicated IT specialist to manage the technical aspects of integrating the software with other software that the school uses. Implementation, integration, and ongoing maintenance can be very costly for open-source student information systems. Premium Support is not typically available for open-source student information systems.
Subscription-based pricing models provide the most value to a buyer by allowing the school to enjoy lower upfront costs, premium support, and continually updated software for one low monthly cost. Schools choosing subscription-based pricing can avoid incurring large expenses when it becomes necessary to upgrade their technology or in the event of an unexpected computer loss. Since subscription models usually offer support no IT Consultant is necessary.
| | | | |
| --- | --- | --- | --- |
| Upfront Cost | Perpetual License | Open Source | Subscription |
| Licensing Fee | ✔ | ✖ | ✖ |
| Installation and Set Up | ✔ | ✔ | ✔ |
| Recurring Cost | Perpetual License | Open Source | Subscription |
| Maintenance and Updates | ✔ | ✔ | ✖ |
| Premium Support | ✔ | ✖ | depends on company |
| Subscription Fee | ✖ | ✖ | ✔ |
| IT Consultant | ✖ | ✔ | ✖ |
ClassReach is a SaaS (SOFTWARE AS A SERVICE) company offering subscription-based student information systems combined with learning management and school management features. ClassReach provides premium support to its customers at NO ADDITIONAL CHARGE. Our agile development methodology allows schools to enjoy new and updated features every two weeks! We provide simple and transparent pricing that is affordable to all schools!
Revolutionize School Operations with ClassReach: Streamline Your Processes and Cut Costs
Managing a school's operations is daunting for administrators juggling multiple software tools. This approach has a price tag, a learning curve, and multiple logins, making it overwhelming to manage. Maintaining several software tools may lead to budget constraints, forcing board members to deny critical needs. Users can quickly become overwhelmed with trying to keep track of it all.
ClassReach simplifies your processes with an all-in-one solution and reduces your overall budget for software.
Implementing a Student Information System: Tips for a Smooth Transition
Implementing a student information system (SIS) in your school can be a daunting task, but with proper planning and preparation, the transition can be smooth and successful. Here are some tips to help you make the most of your SIS implementation: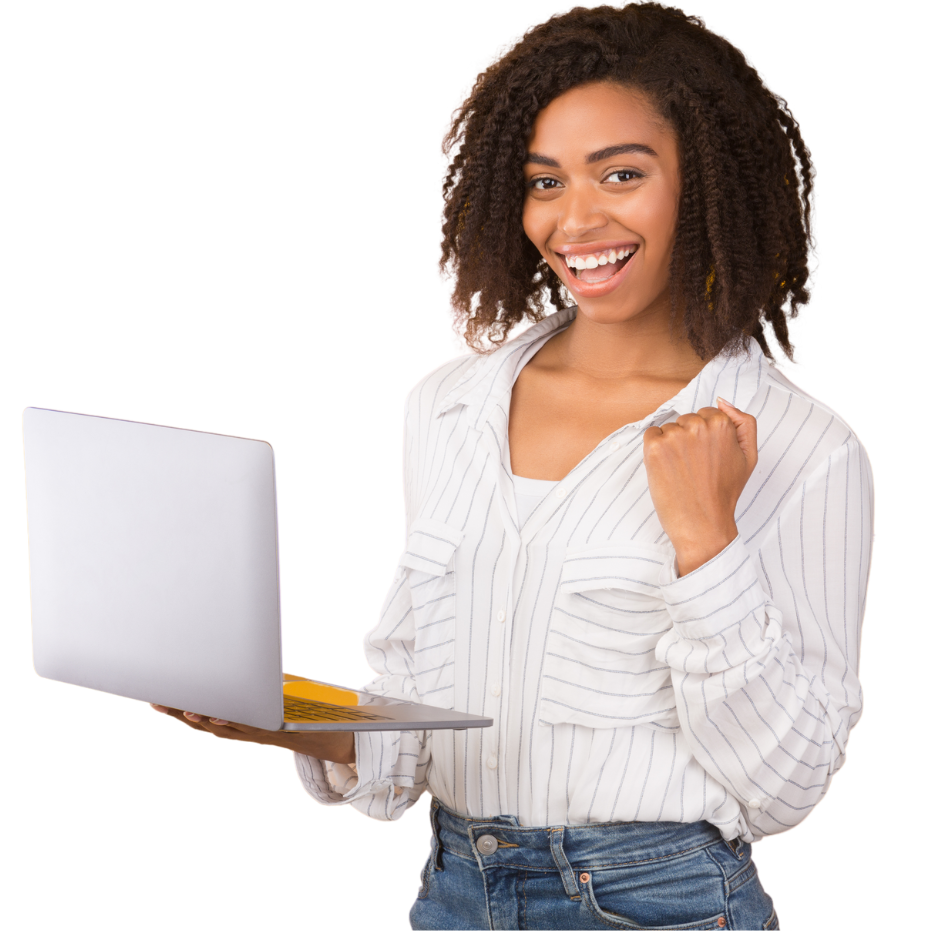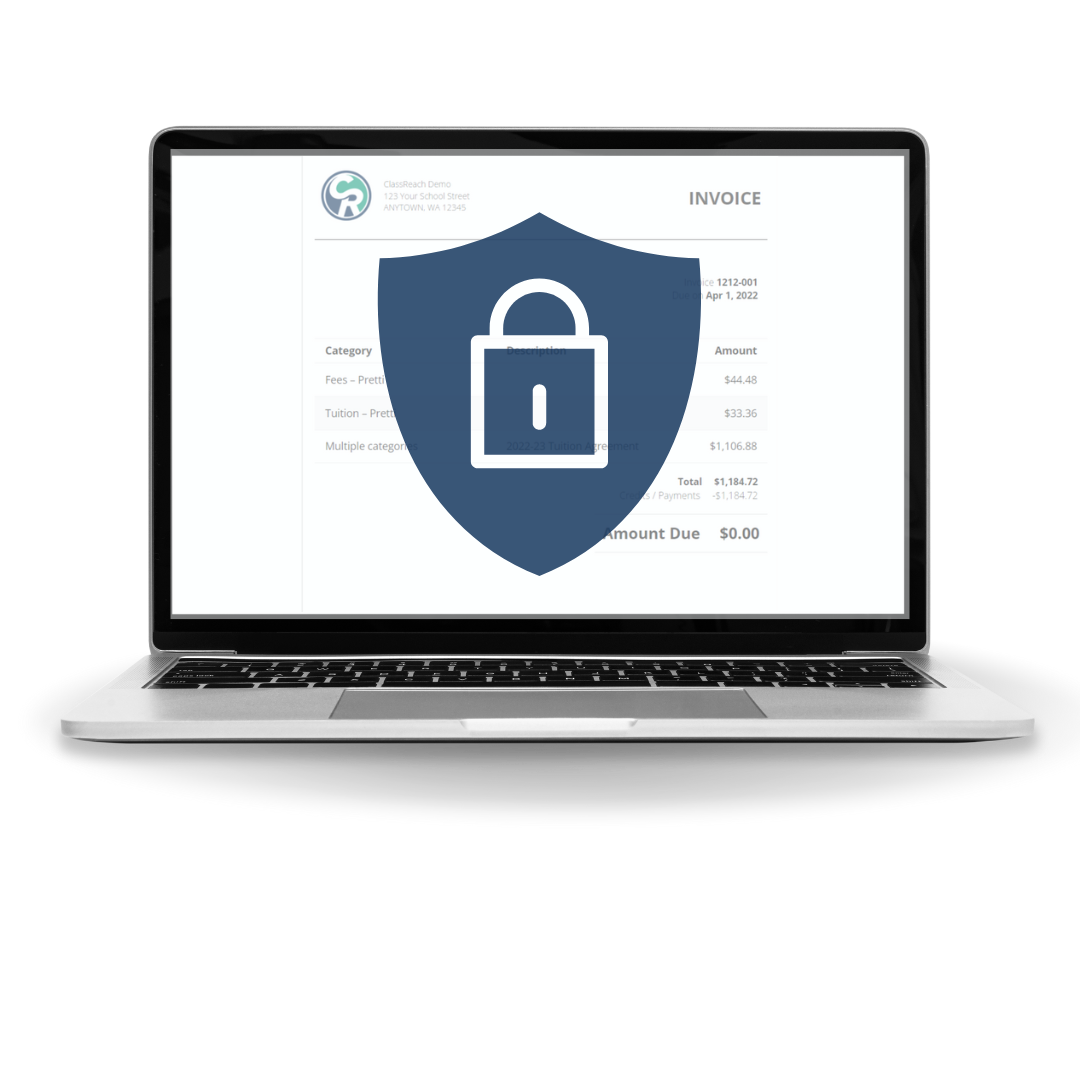 HOW TO ENSURE DATA SECURITY WITH YOUR STUDENT INFORMATION SYSTEM
As schools increasingly rely on technology to manage student data, it's important to keep that data safe and secure. Below are some simple tips to help you manage your school's data:
Check your student database management systems features before using them. Ensure it complies with rules like FERPA and has strong passwords and encryption.
Create clear rules for handling data, including SIS logins. Train all users and regularly check if the rules are effective.
Monitor your system regularly, test access levels, and backup data.
Ensure any third-party companies handling your data also have security measures.
To ensure the smooth functioning of our system, ClassReach conducts routine maintenance tasks such as backing up files and adhering to the latest regulations. In addition, our platform offers a powerful analytics module that enables administrators to monitor their data's health and track user activity, giving them valuable insights into how their system is being utilized.
Integrating Your Student Information System with Other School Management Tools
Integrating your Student Information System (SIS) with other school management software solutions can enhance its functionality and overall effectiveness. By connecting your SIS with other tools such as Learning Management Systems (LMS) and School Management Systems (SMS), you can:
Streamline administrative tasks by eliminating duplicate data entry and automating processes with Integrated tools
Improve communication between teachers, students, and parents by allowing for real-time access to student data
Increase efficiency and accuracy by enabling data sharing across multiple systems

Enhance data analysis and reporting capabilities by aggregating data from various sources
Incorporating these tools into your SIS allows for a more cohesive and integrated approach to managing student data and academic performance. It also provides educators with a more comprehensive view of student progress, which can establish new instructional strategies and help to identify areas in need of improvement. Ultimately, integrating your SIS with other school management software solutions can help to improve the educational experience for both teachers and students.
The Benefits of an All-In-One Solution like ClassReach
Did you know that with ClassReach schools can have all their essential tools, data, and resources in one place? By using an all-in-one system that combines student information software, learning management software, and school management software, educators can streamline their workflow, save time, and boost student outcomes in surprising ways.
Here are some of the amazing benefits you can expect from using ClassReach's all-in-one solution:
Simplify administrative tasks and reduce the time spent on managing different software programs, with integrated school administration software.
Improve schoolwide communication with parents, guardians, and other educators.
Personalize learning in the classroom with customized lesson plans and assessments to meet the individual needs of each student.
Enhance collaboration and resource-sharing among teachers and staff, by taking advantage of integrated classroom management software.
Improve efficiency and reduce costs associated with purchasing and maintaining multiple software programs.
But that's not all! By using ClassReach's combined system, you will also enjoy:
Centralized access to essential tools, data, and resources.
Seamless integration eliminates the need for duplicate data entry and reduces errors.
Improved data security that safeguards sensitive sis logins and other student information.
Better communication and more informed decision-making.
Scalability so your system can evolve with the needs of your school.
Discover the amazing benefits of ClassReach's all-in-one school management solution today!
Explore our all in one Solution features or Try a Free Demo Now!
"I appreciate the incredibly practical cost! We are a small school, and most likely would not be able to afford another platform if ClassReach wasn't available. I also love how quickly they respond to issues and questions. Wonderful customer service!"
"User-friendly, cloud-based, customizable for our school needs, easy to access from laptops or mobile devices. Has all the functionality that we need to manage our school completely."
"I'm extremely pleased with ClassReach. Our parents love it and it has improved our school-to-home communication, record-keeping, and tuition collection. I cannot imagine running our school without it."